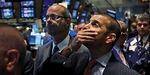 Wall Street as we knew it died on Friday, Sept. 12, in a conference room at the Federal Reserve Bank of New York on Liberty Street in Lower Manhattan. There New York Fed President Tim Geithner, Fed Chairman Ben Bernanke, and Treasury Secretary Hank Paulson gathered the masters of America's battered financial universe to address the widening financial crisis and perhaps help engineer a bailout of Lehman Brothers (LEH). A chieftain who was in the room told me that as the power players put their cards—assets, liabilities, and fears—on the table on Friday and Saturday, the Lehman representatives "looked like zombies." It was then that he realized they were done for and that even more devastating days lay ahead.
One Wall Street CEO who saw that future and acted fast was John Thain of Merrill Lynch (MER). Thain almost immediately cut his losses and saved his shareholders by engineering a sale of his storied firm to Bank of America (BAC) for about $50 billion. Ken Lewis, the chief executive of BofA, later told me that to pay for the acquisition of Merrill, even a dividend cut will be on the table when he meets with his board in October.
By Sunday, perhaps responding to pressure from conservative Republicans, the SWAT team from Washington laid out a tough-love position: The U.S. government would not be rescuing Lehman. That announcement, plus the Merrill-BofA shocker, set off one of the most tumultuous weeks on Wall Street in almost a century. In multiple interviews on CNBC, off the record, and for BusinessWeek, the mood I encountered was sheer gloom. One source said to me on Monday: "I wasn't here in 1929, but I'm pretty sure it felt like what it feels like today." And Lewis predicted: "The storm clouds are not going to go away until 2010." But perhaps the most dramatic news was yet to come.
On Tuesday night the Fed forged a deal to lend up to $85 billion to American International Group (AIG) in exchange for a 79% equity stake—an effort to stabilize the reeling insurance giant and help prevent the contagion in New York from devastating the U.S. economy and spreading overseas. The unprecedented agreement followed a tense day in which former AIG CEO Hank Greenberg, the ousted architect of the insurance and investment empire, reportedly sought to regain control. Instead, according to The Wall Street Journal, Paulson personally asked AIG CEO Robert Willumstad to step aside in favor of Edward Liddy, former boss of Allstate (ALL) and a board member of Goldman Sachs (GS), which Paulson once headed. "I've known Liddy a long time," Greenberg told me. "He knows the domestic casualty field, but that's not the same as a global franchise. This is nationalization." Larry Fink, CEO of investment firm BlackRock, which is 49% owned by Merrill and will now be part-owned by BofA, said: "There is a strong future for AIG."
As BusinessWeek went to press on Wednesday, deals at Morgan Stanley (MS) and Washington Mutual (WM) were in the wind—echoing what Oppenheimer (OPY) managing director Meredith Whitney had suggested to me earlier in the week.
Besides Ken Lewis at BofA, one big winner emerging from the tumult was Barclays President Bob Diamond. After considering a buyout of Lehman, Diamond demurred.
Now, Barclays is spending $1.75 billion for pieces of the fallen firm, including its M&A business and glitzy midtown Manhattan headquarters. I talked to Diamond on Wednesday afternoon.
MARIA BARTIROMO
Why did you do this deal? What are the big advantages?
ROBERT DIAMOND
Well, the first time we thought about this was six or eight weeks ago when it seemed clear that Lehman was having difficulty. But it just didn't seem realistic because I don't think we ever envisioned that we could do a transaction that would be value-enhancing, given that we both had big investment banks. I think a couple of things changed as we looked at it. One is that it wasn't obvious to me at first how complementary the businesses are. You have one business that has huge scale and depth in the U.S, Lehman; and one that has huge scale and depth in Europe, Barclays Capital [Bar Cap]. Then because of the turmoil in the markets and the Lehman bankruptcy, the financial opportunity was completely different than anything we would've imagined.
And, of course, there's the real estate, the two data centers and the New York headquarters.If you're going to take the broker-dealer, which is close to 10,000 people, you're going to have to put them somewhere. And they have a brand-new, first-class facility with all the technology and trading floors, and as part of the deal, we were able to include that.
Do you feel any guilt for not rescuing all of Lehman? Could that have helped quell this crisis?We wanted to make sure that we didn't do anything that put Barclays at risk. That was first and foremost. And if it could lead to a transaction that could be good for our franchise and our shareholders, we were willing to pursue it, we were willing to be bold. We also felt it was important to be involved, whether it led to a transaction or not, because clearly the issues facing the regulators and the central bank were real.
So is that why you walked away from the whole firm?Yes. We looked at the opportunity, and it was quite clear to us from the beginning from Paulson and Geithner that there was no appetite for federal money. So we knew that this was going to stand on its own or not happen.
Why not wait and buy Morgan Stanley?I have no idea whether a transaction like that would make sense at all. This transaction really stood on its merits. So, I don't know, I never thought of it that way at all.
How many of the Lehman employees will you retain?We actually don't know. We're hoping there won't be a significant reduction.
Do you feel like you're a survivor?I talked to the Bar Cap team this morning, and the last thing I said was, "Thank you." It's because of the way that they have driven performance during the most difficult market environment we've ever seen—never taking their eyes off the clients, managing the risk, cutting costs. It's because of that that we have an opportunity in this turmoil to take advantage of—not to take advantage—but to invest in an opportunity such as we saw with Lehman.
Before it's here, it's on the Bloomberg Terminal.
LEARN MORE