Why Even Cheaper Oil Is Grim News
The sharp drop in crude prices is further fallout from the Wall Street crisis and evidence of economic weakness
Moira Herbst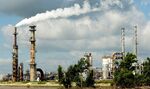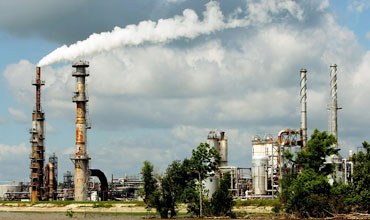 Any other day, Wall Street would have cheered a 5.4% drop in oil prices. That decline for crude futures, however, was accompanied by a nearly 5% tumble for the Standard & Poor's 500 index on Sept. 15. Stocks—as was made painfully clear to investors—are no longer trading inversely with oil prices.
Analysts say that investors, who had been pouring funds into commodities as an alternative to creaky stock markets, are now pulling out of the market. The withdrawal reflects a fear that the economic picture will remain bleak, causing reduced demand in both developed and developing countries. The price of a barrel of West Texas Intermediate crude oil slid $5.47, to settle at $95.71 on the New York Mercantile Exchange (CME). It was the first settlement below $100 per barrel in six months. "A weak economy and financial turmoil mean lower demand; that means lower [oil] prices," says Craig Pirrong, professor of finance and energy markets at the Bauer College of Business at the University of Houston.
The impetus for the Sept. 12 drop was the implosion (BusinessWeek.com, 9/14/08) of several investment banks. Lehman Brothers (LEH) filed for bankruptcy protection, while Merrill Lynch (MER) agreed to be acquired by Bank of America (BAC). Insurance giant American International Group (AIG) is hunting emergency financing as it attempts to stay in business.
Trumping the Bulls
Lehman, Merrill Lynch, and other institutional investors helped fuel the commodities boom of the past year. As funds flooded the commodities markets, the price of oil, precious metals, and grains hit historic highs. But now the economic crisis is trumping bullish signals in the oil market, such as production halted by Hurricane Ike and simmering tensions between Russia and Georgia (BusinessWeek, 9/11/08). Energy stocks also took a hit on Sept. 15. Exxon Mobil (XOM) fell 5.5%, to 73; BP (BP) slid 5.2%, to 51; Chevron (CVX) shed almost 5%, to 80; and ConocoPhillips (COP) dropped 6.4%, to 68.
According to a report released on Sept. 10 by Michael Masters, principal of Masters Capital Management, institutional investors "began a mass stampede for the exits" in mid-July of commodities indexes like the S&P Goldman Sachs Commodity Index. Investors withdrew about $39 billion from the index, resulting in the selling of about 127 million barrels of West Texas Intermediate crude futures.
The strengthening of the dollar has also eroded oil prices. Stephen Schork, an energy consultant in Villanova, Pa., and editor of The Schork Report, a daily energy newsletter, says that investors have moved from commodities to currencies markets as an alternative to the stock market. The upshot is that, for now, commodities and equities markets will fall together. "The fact that oil is low at the same time of the stock market reflects the depth of the financial setback we're facing," says Peter Beutel, president of Cameron Hanover, an energy risk-management firm in New Canaan, Conn.
Is $70 Oil a Possibility?
In other words, the severity of the economic crisis means that lower oil prices are seen as a harbinger of an economic slowdown, not an increase in purchasing power that would lift equities. "The poor economy weakens the price of crude, and causes traders to sell; in turn, their selling weakens the price of crude," says Joel Fingerman, president of FundamentalAnalytics.com, a Chicago energy consulting firm. He sees oil heading to $70 or $80 a barrel in the near future.
If lower oil prices are here to stay, will consumers return to old patterns of consuming more petroleum products? Many analysts think not. "The demand destruction is irreversible," says Schork. "It's a situation of once bitten, twice shy. Prices may be down for now, but consumers know they could eventually move high again."