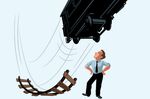 1. Government takeover of Fannie Mae and Freddie Mac drives money to the housing sector. As buyers sense a bottom, pent-up demand explodes. Rising prices and the ability to refinance save many from foreclosure.
2. Surging confidence boosts consumer spending. With stronger demand, companies feel less need to lay off workers. Federal Reserve rate cuts begin to take hold. Investors leap back into the stock market.
3. Global investors regain their faith in the U.S. economy. The dollar holds its value. Foreign investors help finance spending by American households and businesses.
Before it's here, it's on the Bloomberg Terminal.
LEARN MORE