SpinSpotter.com: Scanning the News for Slant
By combing journalism for bias, SpinSpotter gives new meaning to "Net neutrality"
Jon Fine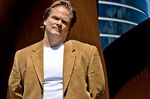 Editor's Note: In the original version of this story, a quote from Roger L. Simon, founder of blogging network Pajamas Media, was mistakenly attributed to Politico.com columnist Roger Simon.
If I told you I invented a machine that could spot bias in what you read, would you believe me? Allegations of media bias can prompt the kind of reasoned discourse that results in newspaper vending machines stuffed with a material I'm told is too gross to mention here, as The Miami Herald once discovered. Despite that—or perhaps precisely because of it—former Microsoft (MSFT) executive Todd Herman sniffed a business opportunity. With the backing of early-stage venture fund Epic Ventures, he founded the Web site SpinSpotter.com, which went live in early September. SpinSpotter, through an application called Spinoculars that sits in your browser's toolbar, is programmed to spot certain indicators of potential bias. The software lets users share and submit troublesome phrases in news stories and opine on those called out by others. Journalism students will help referee the system, and the opinions of users deemed trustworthy by other SpinSpotters will carry more weight.
Spinoculars works off six key indicators of spin—one of them is quoting partisan sources without clearly identifying their bias—which the company derived from guidelines from the Society of Professional Journalists' code of ethics and input from an advisory board of journalists. The six indicators are up on SpinSpotter.com, which also goes into tedious detail regarding its management's and advisers' political leanings. (Suffice it to say that left, right, and center are all represented.)
A pre-launch tour of a SpinSpottered story revealed how the service highlights, in red, phrases that suggest opinions creeping into reportage. Users can then mouse over a red "S" icon near the offending words to see why they caught Spinoculars' attention and find a more neutrally phrased recasting. (I have to say this somewhere: Hilariously, SpinSpotter launches as the Republican Presidential campaign is rallying its base with its most overt anti-media rhetoric since 1992.)
SpinSpotter will be ad-supported, and its ads will be based on what Herman calls "spark words"—hot-button phrases called out by Spinoculars. Ads will run in the Spinoculars pop-up windows that detail why phrases set the system off, and also on SpinSpotter.com itself, where Herman envisions discussion over whether certain phrases indicate bias. Toyota (TM), he says, might want to hang Prius ads around Spinoculars results for the phrase "gas guzzler." Should Spinoculars pick up on a news article that deems Windows Vista a "bug-filled failure," Herman says, Microsoft might well want to buy that particular phrase. And, naturally, he adds, "we would suggest Apple would want to do the same thing."
Herman comes by his media smarts through an interesting career arc. He was a long-haired conservative talk-radio host in Salt Lake City and Seattle who then started and sold an early Web radio company, thedial.com, before spending years at Microsoft. His SpinSpotter is plainly ambitious. No one's yet taken a crack at combining ethics codes and the wisdom of the crowd to adjudicate media fairness. If it takes off, it could both clarify aspects of the news ecosystem and make serious mischief within it.
Not necessarily a bad thing, that last bit. But me, I like nicely turned phrases. I like news stories that come through in full color better than those mired in straight factual gray. I don't mind sacrificing a bit of absolute , well, unbias to get that. And I don't mind a dash, or more, of perspective in much of the media I consume. Judging from two key examples—the Fox News Channel and how Keith Olbermann vented his spleen all the way to being MSNBC's top-rated talent—I'm not alone.
Herman insists that he's not out to create "opinion eunuchs," but adds, "we look for objectivity and high-grade information vs. an attempt to convince." I prefer "fairness" over "objectivity" since the latter is slippery. As Roger L. Simon, founder of blogging network Pajamas Media and a SpinSpotter adviser, flatly concedes, "We're all biased." Which is why my fair is not your fair. Every hot-blooded Democratic or Republican blog howls with outrage over bias that's inflicted only on their side. I'm curious to see where SpinSpotter leads. But I'm also thinking I'm O.K. with today's quirks and biases, this pleasing cacophony of voices from all sides.
In "Scanning News for Slant and Cant" (Opinion, Sept. 22), a quote ("We're all biased") from Roger L. Simon, founder of blogging network Pajamas Media, was mistakenly attributed to Politico.com columnist Roger Simon.
Before it's here, it's on the Bloomberg Terminal.
LEARN MORE