Philips: Philanthropy by Design
How Philips, working with nonprofits, is tackling the low-tech needs of the world's poor
Kerry Capell and Nandini Lakshman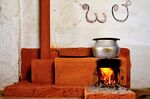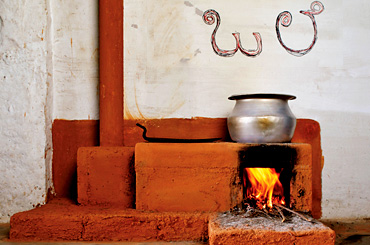 For decades, Nirmala Shivdas Kshirsagar prepared family meals on a chula, a wood-burning oven made from mud. The stove cost little to operate, but the 45-year-old village schoolteacher paid a price: Unruly flames frequently burned Kshirsagar's hands and feet, and smoke filled her three-room home, making breathing difficult and leaving a sooty mess on the kitchen's mud-plastered walls. It's a common problem: The U.N. estimates that smoke inhalation from indoor wood stoves kills 1.6 million people worldwide each year.
So when an Indian development organization last year asked if Kshirsagar wanted to try an improved chula developed in conjunction with the Amsterdam-based electronics giant, Royal Philips Electronics (PHG), she agreed. One year later, Kshirsagar says she loves the stove. She's breathing more easily, and her spartan home is cleaner. "The chula is so much safer and I don't burn my feet," says Kshirsagar, who lives 130 miles south of Mumbai in the village of Sewree.
Conventional chulas use a single length of pipe as a chimney and can only be cleaned by climbing up on the roof. The model designed by Philips has a three-part chimney that can be dismantled and cleaned, making it easier to keep it clear. And cooking pots fit snugly into a hole above the fire, which helps direct the smoke up the chimney and keeps it from seeping into the room. Fuel—wood or manure—is relatively inexpensive, about $5 a month. That's key for Kshirsagar: With her husband out of work, she supports her family of five on the $90 a month she earns from teaching.
Sewree and places like it don't typically hit the radar of multinationals. And low-tech products such as the chula are far removed from the sophisticated medical gear, high-end home entertainment systems, and nifty gadgets that Philips is known for. But the chula and a handful of similar projects are a key part of Philips' effort to help its designers gain insights into the growth regions of the future. That they boost the company's reputation for social responsibility and give it a foothold in new markets doesn't hurt, either. "We must create a design strategy that will improve the quality of life in both the developed and developing world," says Stefano Marzano, chief executive of Philips Design.
The chula and projects like it are still relatively small-scale. But they are emblematic of Philips' effort to transform itself from a high-volume electronics maker into a design-led health, lifestyle, and technology company. With innovations easily copied and competition from low-cost Asian producers fierce, Philips understands it is no longer enough to crank out great products. What it's aiming for is social innovation, or engaging with nontraditional partners to develop culturally relevant solutions. And it is here that design is helping bridge the gap between technology and people. "There is no single player that can address the major global challenges society faces today," says Josephine Green, senior director for trends and strategy at Philips. "Instead, you need to bring together numerous partners, including the users themselves, to co-create social innovation."
For Philips, the success of projects like the chula isn't measured in profits. Indeed, Marzano refers to such initiatives as "philanthropy by design." But by developing sustainable solutions, the company can deepen its knowledge of robust emerging markets and experiment with new business models. "Emerging-market economies are collectively rich but individually poor," says Rama Bijapurkar, a market strategy consultant based in Mumbai. In India, she says, the estimated 600 million people who earn less than $2 per day account for one-third of India's economy. "If companies do not address them, they cannot take full advantage of these markets."
"NO HIDDEN AGENDA"
Philips designers regularly get feedback from Kshirsagar and the 450 or so other families using the chula. "You can't just use the traditional transactional model of, 'You sell and they pay,' "
says Bob Hoekstra, former head of Philips' innovation campus in Bangalore whose firm, Opportunity India, advises companies looking to do business in the country. "You have to provide people the means of generating the income necessary to pay for your products."
On the chula project, Philips teamed up with nontraditional partners that aim to do just that. Local development agencies will set up small roadside factories for creating the components for the stoves, which are made from mud, sand, and cement and require no costly manufacturing equipment. Once the stoves are built, self-help groups of women sell them for a small commission. Villagers, with the help of microfinance institutions and possibly income from jobs at the manufacturing sites, can earn the money to pay for the chula in installments. (Philips' research found users will pay up to $20 for a stove; prices will be determined locally.) The alliances boost Philips' credibility locally—and give it a better understanding of these new consumers.
Of course, such initiatives are fraught with difficulties. It can be tough to find the right partners, gain the trust—and input—of locals to develop new methods of distribution, and then convince them that the product is worth the price. In the past, many grassroots outfits would have considered an alliance with a global brand to be a sellout. Increasingly, though, these groups realize that finding affordable solutions to major challenges such as reliable energy, accessible health care, or clean water requires cooperation with corporations. And that's why says President Sai Prakash of the Erin Foundation, a Bangalore-based development group, has signed on to the Dutch giant's chula initiative. Because the company isn't charging for its designers' time, "we are convinced Philips has no hidden agenda," says Prakash.
For Philips' designers, finding the appropriate solutions requires an entirely different approach. When designing lights for the U.S. and Europe, for instance, Philips focuses largely on mood and ambience. In emerging markets, though, electricity is often unreliable or even nonexistent, so consumers want durable, affordable lights that aren't dependent on a continuous supply of electricity.
THE CHALLENGE: BRINGING DOWN COSTS
Those issues became clear four years ago, when Philips began looking for an alternative to the kerosene lanterns that are ubiquitous in developing countries. These lamps aren't very bright, their fumes are unhealthy, and they can cause fires if knocked over. And the fuel they need can eat up as much as a third of a poor family's income.
Enter SMILE, or Sustainable Model In Lighting Everywhere. That's the name Philips gave to two ideas it came up with after working with NGOs to better understand consumers' needs. Kiran, a hand-cranked flashlight, uses long-lasting light emitting diodes (LEDs) and is aimed at users with no access to electricity. Uday, a rechargeable portable lantern, is aimed at middle-class users with erratic power supplies.
SMILE rolled out last year in eight Indian states. Since then, it has been extended to Africa. Not only does SMILE bring lighting to people who desperately need it but it also offers a clean technology that costs less to use than kerosene lanterns. "It's not about taking older, cheaper products and technology to emerging markets," says Simona Rocchi, director of sustainable design at Philips Design in The Netherlands. In the case of SMILE, "it's about taking a new technology and adapting it in smart ways to allow people . . . to leapfrog into the latest in lighting—LED."
One of the biggest issues for Philips and others developing products for emerging markets is how to turn such social innovations into self-sustaining businesses. That was the main problem with a telemedicine project called Distance Healthcare Advancement, which concluded in 2005. Philips and several local partners wanted to create affordable access to high-tech medical services for people in India living on $2,000 or less a year. While the group overcame numerous cultural, technical, and operational problems, usage didn't meet expectations, and the parties couldn't agree on what fees, if any, to charge. Ultimately they failed to find a way to lower costs and make the project a viable business. "We've managed to deliver the solution and crack the concept," says Murali Sivaraman, CEO of Philips India. Now the company is trying to figure out how best to tackle the problem of cost.
For Philips and other multinationals looking to reach out to consumers across the income spectrum in emerging markets, this remains the biggest obstacle. Says Unmesh Kulkarni, senior design manager for Philips in Pune: "Designing for simple solutions at the lowest possible cost is in many ways more challenging than designing a very advanced, high-tech solution."
Return to Business & America's Idea Economy
Before it's here, it's on the Bloomberg Terminal.
LEARN MORE