Lighting Up Africa Through Innovation
At night, most of sub-Saharan Africa still relies on kerosene and firewood. Lights for Life is one nonprofit that's trying to change that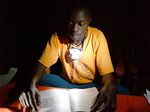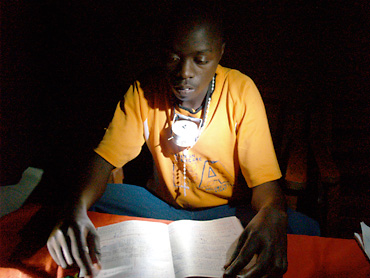 GAHEMBE, Rwanda—After the sun sets, the 96 families in this village light their homes with the flickering orange halo of kerosene lanterns. Those who can't afford lanterns pour the fuel into tin cans with wicks. Outside, they light bonfires.
But on a recent evening, a white-blue glow peeked out beneath doors and through windows. In one family room, a teenager bent over a geography notebook illuminated by two light-emitting diodes (LEDs) on a device the size and shape of a hockey puck. He wore it on a strap around his neck, next to a rosary.
Another villager, a one-legged man named Jean Damiscene Twagirayezo, said he used one of the lights during his nightly security check instead of carrying a kerosene lantern. The new light doesn't "give out bad air," he says. And at a nearby shop, two hung from the ceiling casting a bright cone at the floor. A woman dressed in a wrap and headscarf asked Sameer Hajee, a Canadian engineer with a shaved head, why he hadn't given her one.
Portable Light, No Battery Required
Hajee, who previously worked as a chip designer for two now-defunct Silicon Valley outfits, heads Lights for Life (LFL), a small nonprofit with offices in Toronto and Detroit. LFL developed the "Portable On Demand" (POD) light and a charging device that can be powered by pedal, solar panels, or normal electricity. In Gahembe, Hajee was conducting the PODs' first field trial, lending 20 fully charged POD prototypes to villagers.
"It's easy for us to design in a vacuum," Hajee said later of the process that had kept five engineers and designers busy for several months creating the product. He wanted to test the products outside the workshop. The Millennium Villages project, a high-profile development effort under the auspices of Columbia University's Earth Institute, had previously worked in Gahembe and connected Hajee with the town, he says.
At first Hajee expected to see villagers strap the POD lights to their foreheads, spelunker style. Instead they were more likely to wear the straps like necklaces, the headlamp being an unfamiliar concept in central Africa. And Hajee saw that the lights were best for individual tasks like cooking or reading but couldn't light a room. Some people didn't understand how they worked at all. They "were placing the POD in front of their book with the light facing them," he wrote in an e-mail. "As a result, they were forced to look into the light and some complained of eye strain." As such, later tests will include a "cheat sheet" illustrating how the lights work best. That's not ideal (the page of instructions could get separated from the light, after all) but Hajee expects people will figure it out. Since the tests, Hajee says they're changing the strap fastener to Velcro, as well as modifying the lights' shape slightly to make them more comfortable as headlamps.
A Potentially Lucrative Opportunity
Outside a few major cities, sub-Saharan Africa has hardly any lighting infrastructure. As in much of the developing world, light comes from sources like firewood, kerosene, or bulbs powered by car batteries. These all have severe drawbacks. Inhaling kerosene fumes daily can cause lung disease. Knocked over lanterns ignite. Harvesting firewood is tedious and environmentally destructive. For people living on $1 or $2 per day, fuel and flashlight batteries are expensive. In Rwanda, a 10-ounce Fanta bottle of kerosene costs about 50¢ and might produce six hours of unsteady light. The government's target is for 35% to 40% of the population to have electricity by 2020, probably five or six times the current figure.
Achieving this goal is a development concern and, potentially, a lucrative opportunity. Back in May, the World Bank held its first Lighting Africa conference in Accra, Ghana. There it awarded prizes of up to $200,000 to 16 companies and nonprofits (including LFL) for "off the grid" lighting ideas; smart ways to brighten life for the more than 500 million Africans who don't have regular electricity.
Two additional field test trials are now under way to look at ways PODs could be distributed. Some time in the late fall LFL plans to give out PODs at a few schools in rural Kenya. The hope is that students will charge them at school before bringing them home to study. In a more business-oriented trial, LFL will experiment with distributing charging docks and PODs to entrepreneurs who will sell or rent out the lights and collect charging fees. Hajee calls the idea "microfranchising." Thanks to cell phones, charging fees are familiar in many parts of Africa. Villagers in Gahembe, for example, pay about 20¢ to juice their phones at a store with electricity. Theoretically this could be quickly duplicated anywhere a market for light exists.
Surveying the test subjects, Hajee surmised that the POD's clearest advantage over kerosene was not giving off fumes. The PODs didn't fill a room nearly as well as a single incandescent lightbulb. So there's still room for innovation here, by LFL—or a competitor.
Alex Halperin, a reporter, was in Rwanda thanks to a grant from the Phillips Foundation.
Before it's here, it's on the Bloomberg Terminal.
LEARN MORE