How to Use Our New Business Exchange
Our ambitious new knowledge network lets you explore a vast range of topics, share news, or add your own expertise
Shirley Brady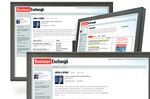 BusinessWeek (MHP) this week officially unveils a Web 2.0 initiative that's been in development over the past two years: Business Exchange, a powerful tool to keep tabs on business-related topics, from Apple (AAPL) (Apple) to YouTube (GOOG) (YouTube), from cloud computing (cloud computing) to retirement strategies (Retirement Strategies), and beyond.
From the BusinessWeek.com home page, click on Business Exchange to track or create your own topics of interest. You can read, save, and add articles and blog posts on a subject, not just from BusinessWeek but from any Web site. Comment on a particular piece of news or analysis, or even write your own headline and description. Your actions help determine what lands on the "front page" of each topic.
BusinessWeek's first foray into social media and online information aggregation is launching with numerous user-created topics, including ones focusing on companies such as Starbucks (SBUX) (Starbucks) and Coca-Cola (Coca-Cola) (KO); executives such as JPMorgan Chase's (JPM) Jamie Dimon (Jamie Dimon); and breaking news such as the bailout of Fannie Mae (FNM) and Freddie Mac (FRE) (Fannie Mae and Freddie Mac).
Offering a smart human filter on the news, Business Exchange makes sense of the Web's treasure trove of information.
Just as important as the mix of articles, blog posts, videos, white papers, and other resources you'll find in each topic is the perspective and input of the micro-communities that naturally form around them.
Find out what fellow users, such as BusinessWeek.com Editor-in-Chief John Byrne (whose profile you can see at right), are tracking, pondering, reading, and sharing. Participate in any topic you like or create your own and invite colleagues to chime in. You'll get the most benefit by registering (which is free). And you can pull in your LinkedIn profile with a click.
Log on and join in. We welcome your feedback.
Before it's here, it's on the Bloomberg Terminal.
LEARN MORE