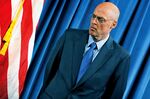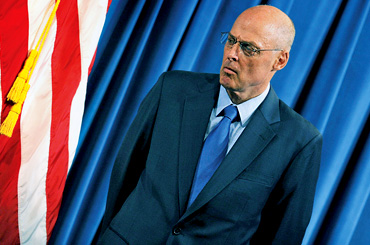 The dramatic takeover of Fannie Mae (FNM) and Freddie Mac (FRE) by the federal government calmed the fears of foreign central banks and big investors and rallied the market—at least until jitters about Lehman Brothers' (LEH) ability to raise capital drove down the S&P 500. But the bailout also fueled a debate that will rage for some time over the wisdom of Washington creating financial-services companies and putting taxpayers on the line when those entities run into trouble. That is one more contentious economic issue to be confronted by the Administration that takes office next January. A more immediate concern that is expected to be center stage when Congress convenes hearings on the takeover is the golden handshake that the outgoing heads of Fannie and Freddie are getting. To get a bead on why the feds acted when they did, I talked with the architect of the takeover, Treasury Secretary Hank Paulson, on Sept. 10. But when the possibility of a Lehman bailout was raised, Paulson suddenly ran out of time.
Maria Bartiromo
Mr. Secretary, the events of last weekend have been called a lot of things—a "bailout," a "stop loss." Can you characterize the action you're taking with regard to Fannie and Freddie?
Treasury Secretary Henry Paulson
Well, I want to remind you that this commitment is being done in a way that protects the taxpayers. And to the extent the taxpayers put funds in these companies, they will be repaid before the shareholders get a penny. So I would characterize this as a step taken to clarify and strengthen government support to stabilize these companies so they can perform their very important mission at this time—to get us through this housing correction, to stabilize the capital markets, and to do this while protecting the taxpayer to the maximum extent possible.
What is your best estimate of what the bailout will wind up costing taxpayers?
It is very difficult to make a projection here. I think this will depend on a number of factors, including the timing of the recovery in the housing market and recovery in the economy. But there are a number of reasonable cases where even the existing shareholders will end up having their stock price come back.
Is it fair to say, as the head of a private equity firm suggested to me yesterday, that this will cost taxpayers several hundred billion dollars?
I certainly have not come up with that estimate.
In the past two months, how many calls did you or your staff get from Chinese government officials or officials of China's central bank expressing concern about the mounting crisis at Fannie and Freddie?
I can't think of any incoming calls we had, but over the last several weeks we had many calls with investors in the U.S. and around the world. And they were predominantly with investors in the U.S. because about $3.7 trillion of these securities are owned by U.S. investors, and the rest [are held] outside of the U.S. But there was clearly growing concern about the situation at Fannie and Freddie.
One fund manager said to me: "Look, the Chinese government, which owns billions in Fannie and Freddie paper, basically said to Paulson, 'We're not buying any more unless it is explicit that you are guaranteeing this.'"
That's not true. There was growing concern and questions about what Treasury was going to do, and we were reassuring investors. But I received no threats or anything as direct as you're suggesting.
How about the South Koreans?
About 80% or 90% of the calls were with U.S. investors, major investors in this country. We were making outgoing calls to central banks and investors throughout Asia, the Middle East, and Latin America, but the incoming calls were from the U.S.
Alan Greenspan suggested to me yesterday that eventually Fannie and Freddie should be split into 5 or 10 separate entities that are then put on the market. He said you can't have an organization that is half public, half private. Do you see something like that playing out at some point?
One thing I see playing out is that once we've gotten through this period, the new Congress and the next Administration are going to have to make a very important decision about what role the government in general and these entities in particular should play in the housing market. Government support, in my judgment, needs to either be explicit or nonexistent. So I strongly agree with Alan Greenspan. The policymakers must address the issues of systemic risk, and we will make a very grave error if we don't use this period we're going through as a timeout where we stabilize these companies…but then permanently address the structural issues presented by the GSEs [government-sponsored enterprises]. I don't believe that it is right for me to take these broad powers given to me by Congress and use them to advocate a particular philosophy or policy or structural end at this time. I think it's very important for me to say there are serious problems around the structure that should now be apparent to everyone, and we need to resolve those. And I will say more about this in the weeks and months ahead.
Most Americans just want to know when we will see this dramatic move stop the slide in home prices.
I'm hopeful we would have more stability in home prices by the end of the year, but I'm not prepared to project it.
One day after the market reacted positively to the Fannie and Freddie takeover, fears of Lehman's inability to raise capital led the S&P 500 to its biggest drop since February '07. Are there plans afoot for a takeover of Lehman?
I can't comment on any specific company in the news today. I've got to hop, and I thank you very much.
Before it's here, it's on the Bloomberg Terminal.
LEARN MORE