Lehman's Survival Plan
To keep Lehman Brothers afloat, CEO Fuld is counting on the sale of part of its investment management business
Matthew Goldstein and David Henry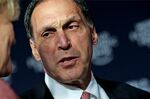 When Lehman Brothers CEO Richard Fuld made the most important pitch of his four-decade career on the morning of Sept. 10, he hoped to convince traders that Lehman's (LEH) stock was worth more than the $7-plus it was fetching. No such luck: By the end of the day shares were lower than where they started. Wall Street, it seems, doesn't share Fuld's professed faith in Lehman's future.
After reporting dismal quarterly results, Fuld, in a hastily arranged conference call, outlined an evolving strategy to keep Lehman alive and end the stock's plunge. It calls for selling off a piece of the firm's investment management business, spinning off a huge swath of real estate assets, and nearly eliminating the dividend. The losses "have clouded the underlying value of our franchise," said Fuld, a former trader who, as CEO, saved Lehman from the brink once before, in 1998.
But Fuld's plan has so many interwoven parts that the whole patchwork could unravel if one piece doesn't work. The tenuousness leaves investors worried that Lehman won't survive as an independent firm—and wondering whether a government bailout will be in store. "If Fuld doesn't get this deal done, he is either going to be forced into a merger or there could be intervention by the Federal Reserve or Treasury," says David A. Hendler of debt research firm CreditSights.
Lehman's biggest challenge: spinning off a new, publicly traded company loaded with $30 billion of troubled commercial real estate investments. To pull it off, the firm must come up with as much as $7 billion in capital. Fuld hopes to get a big chunk of that by selling 55% of Lehman's investment management business, which includes Neuberger Berman. But that group has been on the block for weeks. And by implying that Lehman's survival is riding on the sale, Fuld has lost bargaining power. There's nothing to stop private equity firms or other potential suitors from holding out for the best terms. Lehman has already said it might allow buyers to pay over time.
Fuld is also counting on cash from selling roughly $4 billion in British residential real estate investments to money management firm BlackRock (BLK). But executives disclosed on the call that Lehman will finance up to 75% of the deal, so it will only net a fraction of the investments' value.
What's more, the spin-off, Real Estate Investments Global, won't come to life until the first quarter of 2009 at the earliest. In the meantime, Lehman could face more big writedowns, on top of the $3.9 billion loss in the third quarter.
Lehman isn't as weak as Bear Stearns was when it collapsed and was bought by JPMorgan Chase (JPM) in March. Unlike Bear, Lehman has the ability to borrow short-term funds from the Fed, making a sudden implosion unlikely. But an air of desperation hovers. At a Lehman-sponsored conference on Sept. 9, huge quantities of ballpoint pens emblazoned with the firm's logo quickly disappeared. Some attendees considered them collectors' items.
Business Exchange related topics:Lehman Bros.Investment ManagementBailoutMarket Bottom
Before it's here, it's on the Bloomberg Terminal.
LEARN MORE