When a Fund Loses Its Star
With so many fund managers nearing retirement age, investors will need to decide whether to stick with the new guy or move on
Aaron Pressman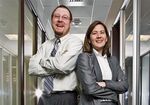 Tracy Wright was sitting in shock in her Boston office. It was April 2007, and the junk bond analyst for Pioneer Investment Management had just learned that the firm's star fund manager, Margie Patel, had abruptly resigned to join a rival. Wright and colleague Andrew Feltus would take Patel's place at the $6 billion Pioneer High Yield fund. "There were a number of holy this's and holy that's," she says.
Wright, 39, and Feltus, 40, had fewer years of investing experience combined than the 58-year-old Patel, who left to join Boston-based Evergreen Investments. And they had to get up to speed fast: Within weeks of the two being named co-managers, the junk bond market peaked and began a nasty downturn that hasn't ended.
Fund manager transitions can often be rocky, all the more so when the departing talent racked up top-notch results like Patel's. Investors will have to brace themselves for similar turbulence ahead as a wave of Baby Boom-era stars heads for retirement. The proportion of workers in the finance industry over 50 and nearing retirement will double in the next 10 years, according to a Boston Consulting Group study.
Regardless of the skill of incoming managers, funds in transition suffer from common problems. Hedge funds and other traders try to guess what positions might be sold and design strategies to squeeze profit from a fund's shifts. Sometimes investors in a fund jump ship en masse, forcing ill-timed asset sales. In many cases there is a change in investing styles. The lesson for investors isn't necessarily to flee when a star manager moves on but to make a more informed decision by being aware of challenges new managers face.
Feltus and Wright were not high-yield neophytes. Feltus had racked up a better record than Patel while running the firm's smaller but similar global high-yield fund over the previous five years. After taking over the junk bond fund, Feltus and Wright finished 2007 with a 7% gain, ranking in the top 2% of all high-yield funds, according to Morningstar (MORN). But 2008 has been a tough year for junk bonds, with the average fund down 3.3%. Pioneer has lost 3.6% and ranks below 7 out of 10 similar funds.
That's quite a drop from the fund's 10-year track record, which bests 99% of the industry. Says Feltus, "I expected to see a correction in the market. I did not expect to see the financial system of the United States melt down." Whether because of a bad market for junk or nerves about the new managers, investors pulled over $2 billion from the fund in 2007. Financial adviser David Nielsen at cfd Investments in Indiana wasn't one of them. "Most high-yield funds have had a bad year," he says. "The managers have been following in Margie's footsteps very well."
That doesn't mean they are copying Patel's style. When they evaluated the portfolio, they immediately wanted to make some big changes. And repositioning a portfolio without tipping off the markets is one of the biggest challenges for managers taking over a fund. For Wright, who had a less traditional career path than Feltus—she was a professional-level snowboarder for four years, while he went straight into the financial world—that meant trying to keep the markets guessing about whether they were going to get rid of Patel's biggest position: a holding of over 10% in debt issued by paper giant AbitibiBowater (ABH). Wright saw paper as an industry in decline. Feltus objected to the size of the position: "I don't want to have one [position] that's going to make or break my year."
Dumping Abitibi was the exact move many Wall Street junk bond trading desks expected, however. Traders sold AbitibiBowater bonds short, pushing down prices. Feltus and Wright didn't want to sell at depressed values so they zig-zagged, sticking with Abitibi some days and selling heavily other days. After six weeks they had flummoxed the shorts, who moved on to other trades.
Patel had also left the fund with 18% in equities, the maximum allowed in the prospectus. Selling off several hundred million dollars' worth of stocks was easier. Feltus and Wright dropped the equity stake to 12% within a few weeks, lessening the impact of the market's tumble this summer.
Not all of the pair's initial moves worked out as well. Last summer they sold some corporate bonds and used the money to buy bank loans from the same companies. Yields were about equal, even though bank loan holders have a much stronger claim than junk bond investors on a company's assets in bankruptcy.
Unlike junk bonds, which pay a fixed rate of interest, rates on bank loans are pegged to the Federal Reserve's benchmark interest rate. So when the Fed cuts rates, holders of bank loans get paid less yield and the value of their loans suffers. Last year, with the market anticipating continued Fed cuts, investors sent values of bank loans skidding. Feltus and Wright dropped the strategy. Now the Fed is moving toward raising rates and Pioneer is buying some loans again. "I'm not investing for the next 30 days," says Feltus. "I'm looking at the next two years."
KEEPING TALENT ON DECK
Funds with established succession plans can largely avoid dramatic overhauls. Some firms assign up-and-coming managers as understudies for years or keep a deep bench of seasoned analysts. When value investing legend Jean-Marie Eveillard first retired in 2004, for example, his replacement at First Eagle Funds was Charles de Vaulx, who had spent 16 years at the company. The younger man was named Eveillard's co-manager in 1999. When he took over, there was little change in style, and the funds performed well over the next few years.
But even a well-planned transition plan can go awry. Eveillard, enjoying his retirement in Paris, got a surprise call last March telling him de Vaulx had suddenly resigned. (He later joined New York-based International Value Advisers.) Eveillard rushed back to New York to take over the First Eagle funds again and start a new search for a successor. In July, he named Matthew McLennan, a London-based fund manager for Goldman Sachs' (GS) private clients, to run his biggest fund, the First Eagle Global Fund (SGENX).
Some companies take steps to avoid transitions altogether by creating teams of managers. At top-selling American Funds, assets are divided between as many as a dozen managers. Dodge & Cox uses a group of managers who work together to pick stocks. Vanguard Group actually splits large funds among outside management firms that can be replaced as needed.
Fidelity takes a different approach, often cycling analysts through industry sector- focused mutual funds to train them to manage more diversified funds. When Neal Miller stepped down two years ago as manager of the Fidelity New Millennium Fund (FMILX) after 13 highly successful years, he was succeeded by John Roth, an analyst who had run several sector funds over the previous seven years. Miller had been a top-notch trend spotter, making big bets on industries ahead of most investors. He was buying Internet stocks in 1995 and sold most before the bubble burst. Roth has run the fund in a more conventional manner and lagged similar funds by about one percentage point a year since taking over, according to Morningstar. Fidelity says the fund's goal is to outperform the Standard & Poor's 500-stock index, which it has done, gaining 4.9% since Roth took over vs. a 3.9% gain for the index.
Over at the Pioneer (TAHYX) High Yield fund, the managers are hopeful. Outflows have slowed, and while neither manager expects a quick turnaround to the credit crisis, they note that junk bond investors are being paid for taking on risk. Junk bonds now pay about eight percentage points more yield than U.S. Treasury bonds for the same maturity. That compares favorably with a premium of less than three points when the duo first took over. Says Feltus: "We think U.S. high yield is the place to be."
Business Exchange related topics:Investment ManagementU.S. Stock MarketInvesting in Growth Stocks
Before it's here, it's on the Bloomberg Terminal.
LEARN MORE