UPS: Making Loans to Small Biz
With the launch of Cargo Finance, UPS hopes to keep its customers' shipments movingand make a few bucks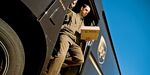 Package delivery giants United Parcel Service (UPS) and FedEx (FDX) are making aggressive moves to pare back rising fuel costs. But UPS is also taking a more unusual step: trying to boost customer demand by loaning money to small businesses. On Sept. 9 the Atlanta company plans to unveil Cargo Finance, aimed at helping small customers that need funds to keep their product orders flowing. "We found that entrepreneurs would love to have someone provide them with working capital," says UPS Capital Senior Managing Director Chris Vukas.
Given that the lending business has long been an albatross for nonfinancial companies—and isn't exactly a sweet spot for anyone these days—UPS's move reflects the lengths to which shippers are willing to go to get out of a bind. Having already watched their stocks drop 12% and 23%, respectively, over the past year, UPS and FedEx are trying to drum up new business and cut costs as the critical holiday shipping season approaches. Even with oil prices easing, analysts expect shipping volume to remain weak through 2009.
Having already made obvious moves, such as limiting hiring and rolling out hybrid trucks that are more fuel-efficient, UPS and FedEx have decided it's "time to get unconventional," says John J. Coyle, professor emeritus at the Center for Supply Chain Research at Pennsylvania State University. FedEx, which is expected to report a 40% decrease in first-quarter earnings per share on Sept. 18, is testing new software that should streamline the takeoff and landing schedules of its larger airplanes and reduce idling time. Newly equipped forklifts can weigh freight instead of hauling goods to scales. (FedEx declined to comment before its earnings announcement.)
WHAT ABOUT DEFAULTS?
UPS has asked pilots to taxi with one engine when possible, and it is experimenting with a type of landing during which engines are idle. The latter measure alone could save up to 70 gallons of fuel per flight. UPS trucks, about 60,000 of which are on the road every day, have begun using so-called telematics technology to track more than 200 pieces of data, including speed, oil pressure, and even the number of times a truck is put in reverse. That helped drivers reduce engine idling by 24 minutes per day, saving $188 per driver.
Cutting fuel costs is one thing; building a finance business is another. UPS's Vukas figures loans will average around $150,000, and he anticipates one or two defaults for every 100 loans issued. "UPS does well with its cash flow, so they have some money they can use [for loans]," says Penn State's Coyle. "But it's a little risky in today's market." UPS has offered such financing to customers over the past decade, but much of the lending was government-backed.
One of its trial customers is Pedors, a $2 million Marietta (Ga.) importer of orthopedic shoes. Along with shipping Pedors products from Chinese factories to U.S. warehouses, UPS pays the Chinese supplier up front for the goods. Pedors wires UPS half the cost of the shipment once the shoes leave China and has 60 days to pay the balance, with interest. Pedors Chief Executive John O'Hare says working with UPS has helped his firm expand its product line. "This service cuts out all the middlemen in international trade," he says. Prior to the UPS deal, O'Hare relied on a bank credit line secured by his personal assets. With UPS, the collateral is the shipment itself.
Business Exchange related topics:Oil and GasMarket BottomRecession Spending and Investing
Before it's here, it's on the Bloomberg Terminal.
LEARN MORE