The Credit Squeeze Hits Global Properties
Developers of commercial properties from London to Tokyo are suffering as banks cut lending
By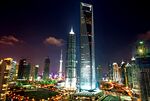 First came the U.S. housing bust. Now comes the overseas aftershock. As the global financial system reels from the credit crunch, skyscraper projects have stalled in London, Tokyo developers have gone belly-up, and Indian office space can be had for fire-sale prices.
What do bad U.S. home loans have to do with office buildings halfway around the planet? Plenty. Global lenders, chastened by the subprime mess, are denying credit to many builders and demanding tougher terms on loans to buy or refinance commercial properties. And as those same lenders lay off thousands of workers, they need less office space—putting downward pressure on rents and spurring developers to rethink their plans. "It's impossible nowadays to keep financial crises in one area," says Minoru Mori, chief executive of Japan's Mori Building, which just cut the ribbon on the 101-story Shanghai World Financial Center, China's tallest skyscraper. He ought to know: Lehman Brothers (LEH) recently scrapped plans to move into the building, and Morgan Stanley said it would rent only four floors instead of eight.
Dealmaking has slowed sharply. The value of commercial real estate transactions worldwide in the first six months of this year was only $306 billion, about half the level of the same period in 2007, research group Real Capital Analytics estimates. "It's hard to sugarcoat what's going on," says Dan Fasulo, Real Capital's managing director of research. "The environment is the most difficult it has been in some time."
BRITISH BLIGHT
London may be suffering the most. As costs for commercial real estate financing in the British capital have soared, only 3 of 19 major office projects announced since 2004 have gone ahead as planned. Developer British Land is delaying construction of a 47-story skyscraper popularly known as the Cheese Grater (owing to its triangular profile). Overall, purchase prices for British commercial property are down 20% from mid-2007 and could fall 15% more in the coming year, says Kelvin Davidson, an economist at London consultancy Capital Economics. "The market won't pick up before 2011."
That might be too late to help Metrovacesa. The Spanish property group spent $3.7 billion in 2007 for the London headquarters of bank HSBC (HBC), Europe's biggest-ever real estate deal. HSBC agreed to remain in the building and extended Metrovacesa a $1.5 billion short-term loan, to be repaid this fall after the Spanish group lined up long-term financing. But analysts reckon the building has since lost at least 25% of its value, and Metrovacesa hasn't yet secured new funding. The company says it's confident it can work out an agreement.
Subprime isn't the only source of trouble. In Japan, banks fared relatively well in the wake of the U.S. mess. But a flagging economy and weak consumer confidence have clobbered smaller developers. Nine publicly traded real estate and construction groups have filed for bankruptcy this year, including Sohken Homes, which sought protection from creditors on Aug. 26. That, in turn, provoked profit warnings by banks that lent to the companies.
In contrast to past real estate downturns, overbuilding isn't a big problem. Vacancy rates remain low in many markets, so rents are stable. "People learned from the 1980s," when loose lending led to massive investment, says David J. Siopack, co-manager of the Schwab Global Real Estate Fund (SWAIX), which has $190 million in assets. This time, he says, "there was a little more discipline."
Overexuberant development has been confined largely to fast-growing markets, particularly China and India. In the Chinese cities of Chongqing and Zhengzhou, more than 30% of existing space is vacant after a building binge two years back, and an additional 4.8 million square feet of space is due for delivery this year in the two cities, according to Jones Lang LaSalle. In India, inflation, high interest rates, and stock market turmoil have taken a toll, with rents off by as much as 40%, says Pranay Vakil, chairman of Knight Frank India, a property consultant. The U.S. slowdown, meanwhile, has dampened demand for "cubicle developments" used by outsourcing shops. "Most IT companies said, 'No more expansion,' " Vakil says.
So far damage to lenders has been limited. But banks in Ireland and the Netherlands might be forced to take writedowns, and investment funds targeting Western European property could be in trouble. The outlook is even grimmer in Spain, where real estate prices have been in free fall. Martinsa-Fadesa, a major property company, filed for bankruptcy in July, and another big developer, Colonial, is struggling with $14 billion in distressed debt.
For all the bad news, the situation creates opportunities for those with cash. Pension funds and sovereign wealth funds "still have money to invest," says Tim Jowett, an analyst at J.P. Morgan Asset Management (JPM) in London. But developers may have to wait awhile. Those conservative investors won't likely put money into the market now, Jowett says, if they think that "in 6 months or 12 months prices might go lower."
Before it's here, it's on the Bloomberg Terminal.
LEARN MORE