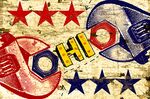 It wasn't a fluke that Senator John McCain introduced his running mate, Alaska Governor Sarah Palin, at a rally in Ohio. In this election cycle, as in past ones, several big industrial states are once again in play. And no Republican Presidential candidate has reached the White House without winning the state. Among Ohio Republicans at the GOP convention in St. Paul, concerns over jobs and trade are running high, and there are signs that the party's free-trade orthodoxy may not play as well as it did in 2004, when President George Bush beat out John Kerry.
Ohio's manufacturing sector is in a world of pain right now. Detroit automakers with facilities there are hurting. Manufacturing jobs in the state have declined 16.8% from 2001 through 2006, says Ned Hill, vice-president for economic development at Cleveland State University. Ohio's overall unemployment rate, meanwhile, hit 7.2% in July, vs. 5.7% nationally. That's the highest level in 15 years.
John McCain has staked out a strong free-trade position in his campaign, touting export growth and calling one U.S. job in five trade-related. But this time around some of Ohio's GOP delegates think government-funded job training (not a traditional GOP priority) will be needed. To be fair, McCain has backed some job-training programs.
Ohio delegate Neal Duiker, a 28-year-old law student from Toledo who grew up in a blue-collar town southwest of Cleveland, says Ohio's workforce must shift to biotech and other high-skill industries—a change that will depend on education. "Nothing's going to help people more than giving them better skills," Duiker says.
"A LITTLE BIT OF UNEASINESS"
Ian Tanner, a 23-year-old delegate and graduate student in Jefferson, agrees, but he's concerned residents won't have the resources to go back to school without assistance. "People are struggling to get by," he says. The Ohio legislature recently passed a $1.57 billion stimulus package with funding for education and job-training.
The rethink in Ohio mirrors broader national trends. Barely a third of Americans—and just 42% of Republicans—said free trade was good for the economy in an April survey by the Pew Research Center for the People & the Press. "What's going on in Ohio is there's a little bit of uneasiness among Republicans about free trade," says Daniel Clifton, a political analyst for Strategas Research Partners, an institutional investment-strategy firm.
McCain and Senator Barack Obama are running neck-and-neck in Ohio, and more than half of likely voters in the state call the economy the top issue of the campaign, an Aug. 24 poll from Quinnipiac University showed. Analysts predict that if McCain can't win Ohio, he's unlikely to take Michigan or Pennsylvania, two other critical manufacturing states. Meantime, Obama's team is trying mightily to connect better with lower-income voters. "The way the Democrats lose Ohio is by losing the working class," says Paul Neaville, a Democratic campaign consultant.
That's why Democrats, in an ad, have tried to pin blame on the GOP for plans by German-owned shipping company DHL to shut down a plant in Wilmington, Ohio, and lay off some 8,000 people. They say McCain opposed efforts to block DHL's acquisition of the plant in 2003, and his campaign manager had lobbied on DHL's behalf for the deal. McCain has called for an investigation of the planned shutdown, and his campaign disputes the ad's accuracy. The battle for Ohio is joined.
Before it's here, it's on the Bloomberg Terminal.
LEARN MORE