H&M Defies Retail Gloom
As a purveyor of stylish clothing at reasonable prices, retail chain H&M looks at the economic slowdown as an opportunity to expand
Kerry Capell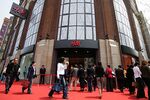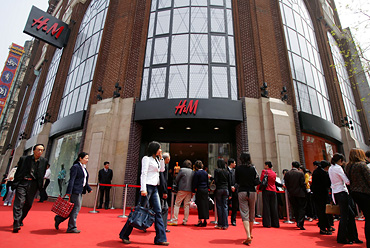 With the credit crunch in full swing, retailers around the world are slashing prices and shuttering shops. But Sweden's Hennes & Mauritz (HMB.ST), a pioneer of cheap but chic fashion, is managing to buck the trend: opening stores, entering new markets, and adding new brands. "Our strategy is based on the concept of fashion and quality at the best price," says H&M Chief Executive Rolf Eriksen. "It helps us stay balanced even during economic downturns."
Defying tough times, H&M will enter one of the world's most competitive fashion markets with the opening of its first store in Japan on Sept. 13. The initial outlet, in Tokyo's Ginza shopping district, will be followed by a second store in Harajuku on Nov. 8. At the same time, H&M will also launch its latest high-profile design collaboration with Japanese designer Rei Kawakubo, the founder of cutting-edge fashion brand Comme des Garçons. A third Japanese store in Shibuya is expected to open next fall.
The fashion chain's arrival is bound to thrill members of its Japanese H&M fan club, who already number 20,000. "With H&M's track record in entering new countries, the strong interest in fashion in Japan, and the existing H&M fan club, H&M has a good chance of doing well there," says Erik Sandstedt, retail analyst at Kaupthing (KAUP.ST) bank in Stockholm.
A Global Expansion
Indeed, as a purveyor of stylish clothing for reasonable prices, H&M sees the economic slowdown as an opportunity to expand. With its entry into Japan, the company will boast more than 1,600 stores in 30 countries, including China, where it launched in 2007. Over the next year, the company plans to increase the number of its stores by as much as 15%, focusing expansion on the U.S., Europe, and Japan.
As economic conditions worsen, H&M, which leases its store sites, is finding it easier to secure prime locations at better terms, especially in the U.S., where the company now has 153 stores, mainly on the East and West coasts. "We're getting much better deals now that we are a known player in the U.S." says H&M's head of investor relations, Nils Vinge. "Landlords are approaching us."
How is H&M managing to thrive in what many observers call the toughest trading conditions in decades? Credit a relentless focus on costs that extends from the company's merchandise to its business model. For starters, H&M's average sale prices are lower than those of its main rivals, Spain's Zara, owned by parent company Inditex (ITX.F), and the Gap (GPS). This will enable the Swedish chain to gain "market share in the current downturn, as consumers trade down in search of better value," says Kaupthing analyst Sandstedt.
The Outsourcing Advantage
H&M's biggest advantage is its business model. A team of 100 in-house designers works with buyers to develop the clothing, which is then outsourced to a network of 700 suppliers, more than two-thirds of which are based in low-cost Asian countries. Not owning any factories, "H&M can be more flexible than many other retailers in lowering its costs," says Raphaël Moreau, retail company analyst for market research firm Euromonitor International in London.
So far, it has proved a lucrative formula. Operating profits for the year ended Nov. 30, 2007, were up more than 20%, to $2.8 billion, on sales of $11.9 billion, up 14.5% from the previous year. Brokerage Sanford C. Bernstein estimates that 2008 operating profits will grow by nearly 15%, to $3.2 billion, and sales will rise 12.6%, to $13.4 billion.
Hoping to fuel future growth, H&M has added a number of new brands to its portfolio. In March 2007 it launched its first new retail brand, called COS (Collection of Style), in London. The new chain, which has now expanded to 12 stores in major European cities, is more upscale and targets an older customer than the core H&M brand, offering apparel and accessories for men and women at higher prices.
A Huge Potential
Last year, H&M also made its first acquisition since the company was founded in 1947, taking majority control of Sweden's Fabric Scandinavien in May. The four-year-old company owned two hip Swedish properties: Monki, a 12-store chain aimed at teenage girls, and the smaller Weekday, whose six stores sell a mix of outside labels and house brands such as über-trendy Cheap Monday jeans (which are also sold through 1,000 other retailers including Barneys New York). Both chains are still small in size and limited to Sweden, at least for now. But there's huge potential to make the new businesses more efficient and expand internationally by having access to H&M's sourcing and logistics, says Vinge.
By experimenting with new brands, H&M is taking a page from the playbook of rival Inditex. The Spanish group, which recently overtook Gap as the world's largest fashion retailer by sales, owns seven different brands including its flagship Zara chain. Many analysts reckon it's an approach that offers the best opportunity for growth. "The multiformat strategy allows mass fashion retailers to cover a broader market space, both in terms of price points and fashion content," says Luca Solca, senior research analyst at Sanford C. Bernstein in London. The challenge for H&M will be sustaining it, no matter what happens to the economy.
Business Exchange related topics:RetailFashion IndustryCredit CrunchEuropean BusinessEuropean Financial Crisis
Before it's here, it's on the Bloomberg Terminal.
LEARN MORE