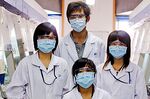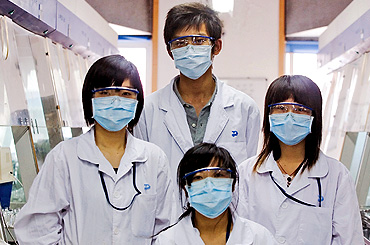 The cocktail chatter in a private room at Manhattan's Cornell Club turned to a hush as 40 pharmaceutical executives, investment bankers, and attorneys raised their wine glasses to Raymond Wu, who died on Feb. 10. The Cornell University geneticist helped pioneer drought-resistant rice. But to the Chinese-American businessmen in the room, Wu was also known for a program he founded in the 1980s that helped 425 of China's most brilliant students earn advanced biology degrees at elite U.S. schools. Today, 2,500 life sciences faculty at U.S. research universities are native Chinese, as are an estimated 10% to 20% of scientists in the labs of U.S. drug and biotech companies. "Ray Wu opened the door for countless Chinese students," said Pfizer's (PFE) Steve Yang, who offered the toast.
Now this wave of imported brainpower is building bridges between the pharmaceutical industries of China and the U.S. The catalysts are returnees, known as "sea turtles," creatures celebrated in Chinese lore for their brave oceanic migrations. Just as previous waves of Taiwanese and Indian engineers blazed trails in Silicon Valley before building computer, chip, and software industries in their homelands, mainland returnees are setting up biotech startups, contract research companies, and university labs modeled after America's. Pharma consultant Zhu Shen, a 1988 emigré, reckons there are 70,000 Chinese life science professionals in the U.S. and dozens of immigrant-founded biotechs in San Diego alone. "Everyone I speak to wants to open up in China," she says.
TIGHT-KNIT NETWORKS
The sea turtles could transform the nature of pharmaceutical research. While India is ahead in building far-reaching partnerships with multinationals, China has a big edge in basic biology and is emerging as a power in discovery. Last year, Shanghai's Jiaotong University licensed a new process for improving patients' absorption of complex drugs to Switzerland's Roche, in a deal that could be worth millions. And in April, San Diego-based HUYA Bioscience won Food & Drug Administration approval to begin human tests of a cancer drug developed by a research institute in Beijing—a first for a Chinese government lab.
Much of the Sino-U.S. activity is brokered through tight-knit networks. The most influential is BayHelix, organizer of the Cornell Club tribute for Wu. Membership in the seven-year-old group is by invitation only and limited to 300 top executives. They include Chinese execs at Pfizer, Merck (MRK), GlaxoSmithKline (GSK), Eli Lilly (LLY), and Novartis (NVS), as well as top venture capital and law firms. Half of its members are based in China, including sea turtles who founded research and development services companies such as Wuxi PharmaTech and Shanghai Genomics.
The heavy Chinese presence in U.S. life sciences began in the 1970s, when tens of thousands of Chinese college grads streamed into fast-growing biotech programs in American universities. Yang went to Michigan Technology University in 1989 because of the cheap tuition and earned a PhD in pharmaceutical chemistry at the University of California, San Francisco before eventually landing at Pfizer. As head of Asia R&D, he now is setting up a network of collaborations.
Today, opportunities in the mainland are luring those sea turtles back. Beijing's Tsinghua University, for example, recently snared alumnus Shi Yigong, a leading Princeton molecular biologist. After doctoral studies at Johns Hopkins and Memorial Sloan Kettering Cancer Center, he rose to full professor at Princeton in just four years, based on his research into the mechanism of cell death. Shi co-founded Tetralogic Pharmaceuticals in Malvern, Pa., in part to commercialize that work. Now he spends most of his time at Tsinghua University. "I feel I can use my talents better in China," Shi says.
Academia isn't the main destination for sea turtles, however. "Now most come back because they want to get rich and do big things," says Michael Hui, CEO of ShangPharma, a drug R&D outsourcing firm. A chemist by training, Hui picked up an MBA from New York University and returned to his native Shanghai. In six years, ShangPharma has seen its staff grow from 5 to 1,300 and counts Eli Lilly among its 60 foreign clients.
NO CRITICAL MASS
Some Chinese are joining mainland ventures because prospects in U.S. industry seem so dim now. Neurologist Charles Huang filed 10 patents and published 20 papers when he was a senior scientist with Neurocrine Biosciences in San Diego. Later he joined fast-growing Shanghai R&D outsourcing firm Sundia MediTech, also headed by Chinese veterans of U.S. industry. He calls the job picture in America "gloomy." What's more, Princeton's Shi warns that shamefully few Chinese scientists rise to the top of major U.S. companies or research programs, compared, say, with Indians or Europeans. "Unless the U.S. solves this glass ceiling problem, you will see a serious brain drain," he predicts.
So far, China's talent gain has not been America's loss. Sea turtle ventures in China still work mainly for U.S. drugmakers. And with 9,000 Chinese students a year earning U.S. biology master's and doctoral degrees, more talent is arriving in the U.S. than is leaving. Chinese companies still don't have a critical mass of veteran scientists who can turn discoveries into products, says John V. Oyler, a former McKinsey consultant who heads Beijing-based contract research company BioDuro. "In five years, as much drug research will be done in Shanghai and Beijing as in Boston and San Francisco," he predicts. "But China's pharmaceutical industry will only be able to succeed by collaborating with the U.S."
Before it's here, it's on the Bloomberg Terminal.
LEARN MORE