Has Dell's Comeback Hit a Roadblock?
Dell blames aggressive price cuts for a 17% drop in quarterly profit, as the highly competitive PC market hampers its bid to revive growth
by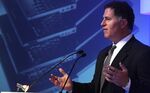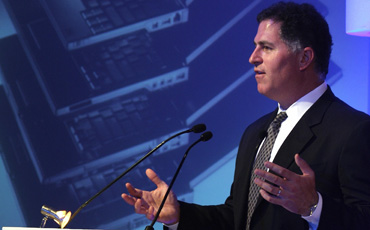 Dell's turnaround plan veered off course during the summer. The PC maker reported on Aug. 28 that its fiscal second-quarter profits slumped 17% on aggressive price cuts, and the company warned of up-and-down profit margins for the next several quarters. The disappointing results came during a strong earnings season for other tech firms, and investors pushed down Dell's (DELL) share price 10% in extended trading.
Chief Executive Michael Dell called the tepid earnings "self-inflicted" during a conference call with analysts and vowed to improve the situation. "Whenever you're restarting growth, it's an imprecise process," said Dell, who returned as CEO at the beginning of 2007 to try to reverse nearly two years of declining market share and slower growth. "There were certainly parts of our business where we were too aggressive."
Now investors have to wonder whether a four-month runup in the price of Dell's shares may be coming to an end. Since May 1, Dell's share price had shot up 33%. They closed on Aug. 28, before the earnings announcement, at 25.21, down 42¢, or 1.6%. That compares with a decline of 1% since May 1 for rival Hewlett-Packard's (HPQ) shares, and a 0.75% dip in Apple's (AAPL) share price. Dell's shares hit a 52-week high of 30.77 last October.
Slugging It Out
Since returning, Michael Dell has pushed for better product designs and expanded overseas operations in an attempt to win back customers for consumer notebook and desktop PCs. Nonetheless, Dell is still slugging it out with competitors on price. That's draining operating profit margins, which fell to 5.3% on an adjusted basis during the quarter that ended Aug. 1, compared with 6.1% a year ago, according to Shaw Wu, a senior analyst at American Technology Research.
"Price is really their only effective weapon," says Wu, who has a neutral rating on Dell shares. "Their products aren't that differentiated. They can paint their products in different colors or sell them in different geographies, but a lot of the other players do the same thing."
The second-quarter earnings fell short of Wall Street's expectations. Dell's net income fell to $616 million, or 31¢ per share, compared with earnings a year earlier of $746 million, or 33¢ per share. Wall Street analysts had expected Dell to earn 36¢ on revenues of $15.95 billion. Sales actually did better than expected, rising 11% to $16.4 billion, from $14.77 billion a year ago.
Margins were squeezed by promotional spending that was needed to compete for space on retail shelves. Store sales is a relatively new area for Dell, which expanded rapidly in the 1990s and earlier this decade by selling directly to businesses and customizing computers to order. But industry growth is now coming from the consumer market. Dell, which lost its position as the No. 1 PC supplier to HP, has had to adapt. Dell's consumer business grew 28% in the quarter, to $2.7 billion; consumer sales now account for 17% of its overall revenues.
The Profit Decline
Aggressive price cuts on notebook computers in Europe contributed to the decline in profits. "Conservative" IT spending by U.S. companies has now spread to Europe and parts of Asia, said Dell Chief Financial Officer Brian Gladden, who arrived in May from General Electric (GE). Investors should expect profit margins to be "nonlinear" for the next several quarters, he added.
Exacerbating the pressure on Dell, the results come amid a generally strong earnings season for computer makers. HP on Aug. 19 reported third-quarter profits that beat analysts' expectations, and issued an upbeat fourth-quarter forecast, boosting its stock. On July 22, Apple beat earnings and sales expectations, but forecast thinner profit margins (BusinessWeek.com, 7/22/08) for the rest of the year and into 2009.
It wasn't all bad news for Dell. The company brought operating expenses down to 12.2% of revenues during the second quarter, from 13.9% a year ago. That was part of a cost-cutting goal of eliminating $3 billion in spending each year by fiscal 2009. Dell shed 1,500 jobs during the quarter and has cut its workforce by 8,500 since the beginning of fiscal 2007.
Dell is also expanding its product line with more machines designed to serve niche market segments. "They're trying to go after finer market opportunities in hopes of wringing out more market share," says Richard Shim, a research manager at IDC. In mid-August, Dell released a lineup of new notebooks for business customers, and its CEO said a fresh batch of business desktops is on the way. In July, Dell told BusinessWeek editors that the company was looking forward to a "big second half" to the year (BusinessWeek.com, 7/28/08).
Fierce Competition
The company is outgrowing the overall market. Dell's worldwide PC shipments rose 21.4% during the April-through-June period, compared with 15.3% growth industrywide, according to IDC. Dell now holds a 16.4% share of the worldwide PC market, compared with 18.9% for HP.
But Wall Street is starting to wonder if market share gains are coming at the expense of profits. Its competitors' must-have products and services—Apple's Macs, iPods, and iPhones; HP's printers; and IBM's software and consulting services—make them less susceptible to the vicissitudes of retail price wars, says American Technology Research's Wu.
Before it's here, it's on the Bloomberg Terminal.
LEARN MORE