A Boom in Israel's Exports to India
As India's economy expands, business ties between the two nations are deepening and sales are surging
Neal Sandler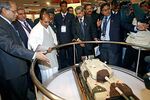 There have been Jews in India for centuries, and Indians in Israel for decades. But it wasn't until 1992 that the two countries established diplomatic relations. Now, as India's economy grows, business ties between the nations are deepening, and exports from Israel to the world's second-most-populous country are soaring.
Consider Tel Aviv's Netafim, a leading supplier of drip irrigation systems. From fewer than 100 employees in India just four years ago, the company now has expanded its staff there to more than 700 and on Aug. 23 opened a second factory in the southern city of Chennai. Even more remarkably, Netafim bases its global engineering and planning operations on the subcontinent.
"India has become our second-largest market (after the U.S.) and continues to grow rapidly," says Ofer Bloch, Netafim's president and chief executive. The privately held company, owned by three kibbutzim and two equity firms, notched sales of nearly $500 million last year and aims to double its revenues by 2011, thanks in no small part to growth in India.
Makers of everything from chemicals to software are seeing similar surges. All told, exports of nonmilitary goods and services from Israel to India jumped 40% in the first half of 2008 from the same period the year before, after reaching a record $1.6 billion for 2007 as a whole.
Military business also is booming. Although official figures aren't released on a country-by-country basis, a senior Israeli defense industry source estimates that Indian purchases now account for about one-third, or $1.67 billion, of Israel's $5 billion in annual defense exports. That brings Israel's total estimated civilian and military sales in India to around $3.27 billion.
Farming Out High-Tech Work
All manner of companies are benefiting from the trend. Giant Israel Chemicals (ICL.TA), for instance, figures that in the first half of this year it has already surpassed the $263 million in revenues it booked from India for all of 2007. Growing sales and a sharp rise in potash prices have made the specialty chemicals and fertilizer manufacturer into one of Israel's leading players in India. Meanwhile, Kadima-based IDE Technologies, a top supplier of desalination technology and systems (BusinessWeek.com, 4/25/08), is helping address critical water shortages on the subcontinent. "Our sales to India have more than doubled in the past few years, to the level of $50 million to $100 million," says Henri Inzelberg, vice-president for global marketing.
Israel's high-tech industry also has discovered India in a big way. Initially, big companies such as billing software developer Amdocs (DOX) and tech integrator Ness Technologies (NSTC) turned to India for cheap engineering talent. Now, faced with manpower shortages in Israel and a rising shekel, even startups are farming out work to India to lower their development costs (BusinessWeek.com, 7/23/08).
But these days, with sales on the upswing in the Indian market, outsourcing is only part of the equation. Tel Aviv security-software maker Aladdin Knowledge Systems (ALDN) opened an office last year in Mumbai and is already looking to expand its presence there. "We see India as a huge opportunity rather than a threat since there is a big demand for our type of security products," says Jacob (Yanki) Margalit, chairman and CEO of Aladdin.
Housing for India's Middle Class
The latest to jump on the bandwagon are Israel's real estate developers. In the past two years they have committed billions of dollars to projects in India and are counting on its fast-growing economy to offset the slack from slowing markets in the U.S. and Europe. Property & Building Corp. (PTBL.TA), Electra Real Estate (ELCRE.TA), Elbit Imaging (EMITF), and Gindi Group are constructing everything from housing to hotels and shopping malls.
"We were debating between India and China and decided to go with the former because conditions there for foreigners to operate were a lot easier," says Segi Eitan, CEO of Property & Building. The company has bought land in four sites and is planning to build thousands of housing units for India's expanding middle class in Chennai and Hyderabad.
Even El Al (ELAL.TA), Israel's national airline, has felt the change. The carrier has beefed up capacity to Mumbai, and business class seats to India are hard to come by these days.
Israel's Largest Defense Customer
As for defense, India now has supplanted the U.S. as Israel's largest customer for weapons systems ranging from aerial reconnaissance planes to missiles and unmanned aerial vehicles. That has translated into growing sales for state-owned and private companies such as Israel Aerospace Industries (IAI), Rafael Advanced Defense Systems, and Elbit Systems (ESLT).
News reports earlier this month said that the Indian Cabinet Committee on Security had approved a new $1.5 billion contract for IAI to develop and upgrade the Indian Navy's Barak missiles. The deal had been held up for more than a year because of accusations that former Indian Defense Minister George Fernandes had accepted a kickback from IAI—charges that both Fernandes and IAI have denied.
"This is the largest single deal ever for an Israeli defense company and underscores the critical importance of India for our industry," says the Israeli defense industry source. In February, IAI also signed a deal with the Indian industrial conglomerate Tata Group to set up a joint venture that will develop weapons systems for the Indian market.
To be sure, Israel can hardly expect to compete with bigger global players in the Indian market. Products from Israel accounted for less than 2% of India's $230 billion in total imports last year. But in key fields such as defense, agriculture, water, and high tech, Israel has what India is looking for. For such a small country, the benefits of the relationship are immense—and becoming even more so as Israel's traditional export markets in Europe and the U.S. flirt with recession.
Before it's here, it's on the Bloomberg Terminal.
LEARN MORE