Why Indian Farmers Are Fighting Tata's Nano
To lure the automaker, West Bengal seized small farms to give Tata nearly 1,000 acresand so far it has rejected compromise proposals
by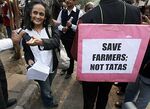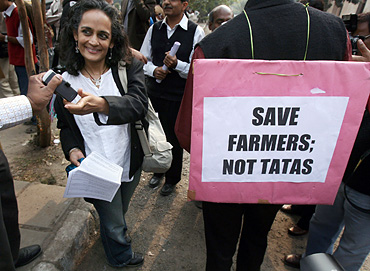 On a highway lined with policemen, in front of protestors armed with anger, one of India's most charismatic politicians has the crowd enthralled. "We who have so little, have so little greed," yells Mamata Banerjee, a firebrand leader who is leading protests here against a new factory for Tata Motors (TTM), part of the powerful conglomerate the Tata Group (BusinessWeek.com, 8/25/08). Banerjee throws a rhetorical barb at the group's chairman, Ratan Tata, scion of a family that brought Western-style industrialization to India. "You, Mr. Tata, why are you so greedy?"
Here, in the 90-degree heat of India's never-ending summer, nearly 40,000 protesters have brought to a halt the production of the world's most eagerly awaited car—the Nano, the $2,500 "People's Car" that Tata unveiled in January and that's supposed to start selling in October (BusinessWeek.com, 1/10/08). That timetable is now in jeopardy, after more than a week of protests shuttered the $350 million plant that Tata Motors built in Singur, a small town two hours from Kolkata. About 5,000 riot police now keep an eye on local farmers, most of them poor and illiterate, who are leading the resistance amid complaints the government and Tata unfairly seized their land in a drawn-out, three-year process.
With the two sides at a standoff, Tata's Nano project—originally an example of Indian innovation in creating products to suit the needs of low-income consumers—has now turned into a symbol of one of the most intractable problems facing modern India: How, in a land crowded with more than a billion people, where property holds both profoundly sentimental and measurable economic value, does modern industry find a foothold?
Walling Off the Land
In Singur, that conflict haunts the life of Mahadev Das. The 34-year-old farmer woke up one day in 2006 to find that the state government of West Bengal had decided to take his three-and-a-half-acre plot of land and add it to the nearly 1,000 acres it was giving to Tata. In exchange, Tata would bring production of the Nano to the investment-starved state, which has been ruled for more than three decades by a democratically elected Communist government that is only now flirting with large corporations. Early in 2007, Das remembers being held back by policemen as he watched a wall being constructed around land that he had inherited from his father. "For a farmer, land is life," he says, standing outside the gates of the factory, as almost 30 policemen keep watch on him. "If you take away my land, you might as well take away my life."
On an eight-kilometer motorcycle ride through the lush, green fields of his childhood, where farmers plant paddy fields by hand and women wash their family's laundry in a communal stream, Das is never far away from that gray wall. "I hate that wall," he says. "I never thought I was capable of this kind of hatred."
The government says it paid farmers the current market price for the land—from $10,000 to $20,000 per acre, depending on fertility. "If the issue is compensation, it can be discussed," says Biman Bose, among the most senior leaders of India's Maoist Communist party. "But this is rejection of progress, these kinds of protests."
Unacceptable Compromise
Farmers nonetheless insist they had no choice but to accept the factory plan. They also say the prime location of the plant, less than 50 yards from a major highway that leads to major cities and to the port of Kolkata, indicates that the land should be worth more than what the government offered to pay.
Back on the highway, now abandoned by cars and crawling with thousands of full-time protestors, opposition leader Banerjee, visibly weakened from nearly a week outside the factory gates, holds a microphone and, with a lusty voice, leads a constantly swelling evening crowd in protest. "Tata Babu," she says, referring to Chairman Ratan Tata, "you may be rich, but no matter how many times you say Nano, we say No-No."
Later, in a rare interview, Banerjee is adamant that she doesn't want to kick Tata out of West Bengal. "Both agriculture and industry can survive together," she says. "Why should agriculture and industry war with each other?" Her compromise—roundly rejected by the state's chief minister and by the Tata Group—is that Tata be allowed to keep the 600 acres on which it has already built and return the remaining 400 acres to the farmers. "Why does a modern car plant need a thousand acres?" she asks.
Tata Motors declined comment, but on a weekend visit to Kolkata, the company had threatened to pull the project out of West Bengal if the government did not come up with a solution by early September. That may just be an empty threat—otherwise, it's a highly expensive option. With the plant 85% complete, Tata would lose its $350 million investment and have to spend another $50 million to $100 million to relocate, says independent auto consultant Ashwin Chotai. The bigger problem, he says, is that to keep prices low on the world's cheapest car, Tata had planned to have suppliers set up factories on the 400 acres in dispute. For now, most haven't relocated. "We are manufacturing the equipment here" in Gurgaon, a city outside Delhi, "and we ship it to whatever location Tata wants," says Arvind Kapur, chief executive of Rico Industries, which makes engine parts for the Nano. "Wherever the Tatas go, we will be there."
Before it's here, it's on the Bloomberg Terminal.
LEARN MORE