Georgia War Hits Russian Investment
Strained relations with the West is only one headache. A slew of disputes and scandals also threatens the status of foreign investors
Jason Bush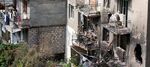 Out of the frying pan and into the fire. When Russia recognized the independence of the breakaway Georgian regions of Abkhazia and South Ossetia on Aug. 26, the benchmark Russian Trading System (RTS) stock index dropped 4%, sending the market to its lowest level in almost two years. The Russian move seriously exacerbates the strain in relations between Russia and the West, already in a state of crisis following the war between Russia and Georgia (BusinessWeek.com, 8/22/08).
Even before Russian tanks rolled into Georgia on Aug. 8, investors in Russia were shaking their heads in gloom. Since peaking in the middle of May, the Russian stock market has plummeted 36%, with two-thirds of the decline occurring before the war began. Currency and bond markets also have taken a hit: Official figures released on Aug. 21 show that Russia's foreign exchange reserves fell $16.4 billion in the week beginning Aug. 8, the largest outflow since the ruble crisis and financial meltdown of 1998.
The outflow follows a barrage of shocks to investor sentiment that has revived old fears about the stability of Russia's investment climate. "It has certainly been a crescendo of bad news," says Erik De Poy, chief strategist at Russia's Alfa Bank. "It's just one bad thing after another."
Drumbeat of Troubles
In the weeks leading up to the war, investors in Russia were perturbed by other problems. Not least among them was the raging shareholder dispute (BusinessWeek, 7/31/08) at Anglo-Russian oil venture TNK-BP (TNBPI.RTS), one of the largest foreign investments in Russia, which is 50%-owned by British energy giant BP (BP).
Then there were the alarming fraud allegations by Hermitage Capital (BusinessWeek.com, 4/4/08), a portfolio investment fund managed by the British bank HSBC (HBC). Most recently came a scandal involving Mechel (MTL), one of the largest Russian steel companies. When Russian Prime Minister Vladimir Putin on July 25 accused Mechel of price-fixing, it raised fears of a state crackdown, causing the RTS to shed 5% in a single day.
No one could have guessed that these upsets were just the prelude to an even bigger crisis. The ongoing diplomatic fallout from the Georgia dispute may yet see Russia expelled from the Group of Eight club of the world's largest economies. Russia's bid to join the World Trade Organization (WTO), meanwhile, seems to have been put on ice. Little wonder that investors are now bolting for the exits.
Time to Buy?
Yet most market analysts remain bullish on Russia's longer-term potential—and attribute some of the investment chill to broader global economic concerns. Indeed, many argue that the precipitous fall in Russian stock prices creates attractive buying opportunities. "Short-term, foreign investors are clearly taking fright and leaving. Does that mean that the investment story is over? I don't think so," says Kingsmill Bond, chief strategist at Russian investment bank Troika Dialog.
Alexei Moisseev, an analyst at Renaissance Capital in Moscow, argues that the investment outflow from Russia is no worse than that now afflicting other emerging markets. China's stock market, he notes, has fallen even more spectacularly over recent months—it's down 60% since last November. "Investors have been weighting off all emerging market exposure, including Russia, and that was the major driver," he says.
But it remains to be seen just how deep the rift between Russia and the West will go. A lot could hinge on the outcome of the U.S. Presidential election in November. Both candidates have strongly criticized Russia's actions in Georgia, but Republican John McCain has been the most vocal. Many Russian analysts assume a victory for his Democratic rival, Barack Obama, might pave the way for warmer relations.
Police Raid
While the future of diplomatic relations will influence the mood of foreign investors, more will depend on Russia's treatment of foreign investors themselves. Recent signs have not been encouraging. On Aug. 15, a Moscow court barred TNK-BP's chief executive, Robert Dudley, from the country for two years for alleged violations of labor law (BusinessWeek.com, 7/24/08).
Just a week later, Hermitage Capital revealed that Russian police had raided lawyers working for Hermitage and HSBC, apparently in response to Hermitage's complaints about alleged fraud. In a statement to the media, Hermitage called the actions "a sign of the deteriorating rule of law" and "a chilling message to all investors."
Such cases are a reminder of the weak legal protections for foreign investors who fall afoul of Russian authorities or powerful local partners. But amid all the recent shocks to investor confidence, there's still little sign that Russia's underlying economy is coming under any real strain. Although credit conditions are tightening as foreign capital flees, economists believe that some cooling off is salutary, helping to counteract rising inflation.
Despite the tightening of credit and a modest recent fall in oil prices, Russia's GDP growth this year still is expected to clock in at around 7%, similar to previous years, with consumption growth in double digits. Fueled by massive energy revenues, Russia's huge foreign exchange reserves of $580 billion mean the country can easily withstand short-term financial shocks. "Investors are focusing on all the negatives at the moment, and none of the potential positives," says Alfa Bank's De Poy. "The whole consumer growth story here isn't going to go away."
No doubt, recent shocks have reminded investors yet again of the continuing risks of investing in a country long notorious for its unpredictability. But at a time when financial conditions in the West are at their gloomiest in decades, Russia isn't the only country where investment uncertainty has returned with a vengeance.
Before it's here, it's on the Bloomberg Terminal.
LEARN MORE