Wall Street's Big Sell-Off
Even after deep discounting, Lehman Brothers' assets may go without buyers. Is an S&L-style bailout in the offing?
David Henry and Matthew Goldstein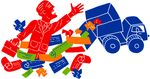 Lehman Brothers (LEH) might as well have a tattered and faded sign reading "liquidation sale" hanging from its Times Square headquarters. For months, the fourth-largest investment bank has been trying to sell assets—good and bad—to stay alive. It dumped $140 billion of holdings in the first quarter. Now Lehman is actively shopping its crown jewel, money manager Neuberger Berman, and it may be looking to unload some commercial real estate securities.
Lehman's air of desperation is the most potent form of fear wafting through Wall Street and Europe's financial capitals these days. Big banks are steeling themselves for another round of losses, which could prompt the biggest sale of assets since the credit crisis began more than a year ago. The potential size of the fire sales: roughly $2 trillion. Lehman declined to comment.
Vulture investors are raising record amounts, but there still may not be enough money to devour those assets. And if they hope to find a buyer at all, banks may be forced to cut their asking prices to the bone, which would batter their balance sheets even more. "The money is not there," says Joseph Mason, a professor at Louisiana State University. "We're going to see failed sales."
The fear is that if banks can't sell off enough assets, more firms will go the way of the late Bear Stearns and IndyMac. On Aug. 27 the Federal Deposit Insurance Corp., the regulator that oversees banks, reported the number of institutions on its so-called problem list spiked 30%, to 117, in the past quarter. "It's really an ugly time, and it's only going to get worse," says Christopher Whalen of Institutional Risk Analytics, a research and consulting firm.
The situation may well pressure the federal government to step in with a broad-based solution, one with an almost retro feel. Banking experts are starting to talk about the need for an updated version of the Resolution Trust Corp., the vehicle Congress created in 1989 to gather up assets from failed savings and loans and sell them off in an orderly fashion. The RTC was a reincarnation of the Great Depression's Reconstruction Finance Corp.
Hard Sell
Third-quarter financials, which firms deliver in the coming weeks, could set off the avalanche of sales. Credit analysts at J.P. Morgan Securities (JPM) estimate that banks worldwide will experience an additional $200 billion in losses and writedowns this period, on top of the $500 billion they've already taken. When the whole credit crisis is said and done, the full count could top $2 trillion by some gloomy estimates.
Until now, banks have replaced most of that lost capital with money from outside investors. But those funds are drying up. For one, it's getting harder to issue the type of special securities that sovereign wealth funds and others have found appealing when giving big cash infusions to Citigroup (C), Merrill Lynch (MER), and other struggling companies. Plus, many of those early movers may have buyer's remorse, considering that the value of their investments has eroded dramatically.
Without a white knight, banks will likely resort to dumping assets to maintain satisfactory capital levels for regulators and creditors. How much stuff could be up for sale? Generally speaking, commercial banks try to hold $1 of capital for every $10 of assets they own; for investment banks it rises to about $20. That means if banks and other financial firms lose the predicted $200 billion in the current period, there could be roughly $2 trillion of assets on the block, including prized possessions.
Wall Street's big yard sale, however, may not be well attended. Distressed funds, the main scavengers, have raised $70 billion in the last 18 months, according to Dow Jones Private Equity Analyst. Other money managers may have an additional $30 billion earmarked for financial assets. Sellers may toss in generous financing terms that would turn that $100 billion into $400 billion of purchasing power, taking their cues from Merrill Lynch. In late July, private equity firm Lone Star Funds bought $30.6 billion of collateralized debt obligations for $6.7 billion from Merrill, which financed 75% of the purchase price. Even by stretching their dollars in such ways, vultures and other opportunistic buyers can't possibly sop up the flood.
Although banks have been pruning assets to beat a potential logjam, they haven't done enough. Some players have been reluctant to unload holdings in weak markets. Other sales have been offset when banks had to take securities back on their balance sheets—akin to bailing a sinking boat with a sponge. For example, Citigroup sold its German retail bank for $7.7 billion to Crádit Mutuel of France in July. A month later, Citi agreed to buy back as much as $7.3 billion of auction-rate securities from clients in a settlement with regulators.
In trying to cut the weight on its balance sheet, Lehman took the unusual step of creating ready buyers. Earlier this year, the investment bank gave seed money to some of its former traders and bankers, who started hedge funds in Lehman office space. The two portfolios, R3 Capital Management and One William Street Capital Management, accumulated nearly $5 billion of Lehman's mortgage-backed investments, junk-rated corporate loans, and securities based on leases for flight-training gear.
Tarnished Inventory
That's a pittance compared with what Lehman may yet have to sell. CreditSights' David A. Hendler estimates the bank will report a quarterly hit of $4 billion to $6 billion, which could necessitate $40 billion or so in asset sales. That may be why Lehman CEO Richard Fuld is trying to cobble together an independent entity to buy up commercial real estate securities, according to Bloomberg News.
Such moves may come too late. "The answer was to get out of the bad stuff before people realized how bad it was," says Brad Golding, a portfolio manager with Christofferson, Robb & Co. "There is no market for many of those assets so they're being forced to sell the family silver."
Complicating matters, buyers may be sitting on the sidelines—either waiting to see how juicy the bargains get or worrying that a glut of assets would drive down the prices on any early purchases. Some analysts suspect Lehman may be having a tough time striking a deal on Neuberger since there's speculation other money managers may be on the block, including troubled lender Wachovia's (WB). Publicly, Wachovia has said its investment group is not for sale, but it will off-load "noncore" assets.
Some banks may be able to avoid shedding massive amounts of assets. New buyers could emerge, such as pension funds. "As the crisis lingers, there's more time for people to evaluate products that they might never have thought of buying," says Anil Kashyap, a professor at the University of Chicago Graduate School of Business. Banks could also cut expenses. And the Federal Reserve, by keeping rates low, is making it more profitable to capture the spread, or difference, between the bank's borrowing costs and the higher rates they charge customers on loans.
That kind of rehab, though, takes time—a luxury many banks don't have.
Before it's here, it's on the Bloomberg Terminal.
LEARN MORE