U.S. Vulture Funds Head to Europe
As the Continent's economy slows, American distressed-debt and workout funds go on a hunt for wounded businesses
By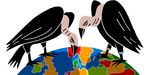 American vulture investors are swooping down on Europe. Attracted by the scent of rotting valuations, such high-profile players as Wilbur L. Ross Jr. in New York and Lone Star Funds in Dallas are starting to do deals across the Continent. On Aug. 18, Ross spent $70 million to acquire an 86% stake in struggling British auto supplier Wagon (WAGN). Days later, Lone Star took over IKB Deutsche Industriebank (IKBG.DE), a troubled German bank, for $150 million. And such heavyweights as Oaktree Capital Management and Avenue Capital Group are raising billions to invest in European assets in coming months.
As an arena for distressed-debt investing, in fact, Europe is rising to the top of the list. Having largely ignored the region until recently, investors are raising $7 billion worldwide this year to buy distressed European debt, estimates London research firm Preqin (Private Equity Intelligence). Of that, U.S. players are raising $5 billion.
Several factors are making the region more attractive to U.S. investors. Europe's slowing economy and bursting real estate bubbles in Britain and Spain are raising the specter of a deep debt crisis. About 65% of corporate credit rating actions in Europe through July were downgrades, the highest ratio since 2003, according to Standard & Poor's (like BusinessWeek, a unit of The McGraw-Hill Companies (MHP)). Moreover, European companies that have gone private generally have received loans with less favorable terms than those in the U.S. Another draw: a surprising lack of competition from Europeans. "There's a less developed distressed-debt market in Europe, with very few distressed-fund players," says Oaktree Chairman Howard Marks.
Bargains Galore
Already, some junk-rated bonds are starting to trade at deep discounts. Europe's market for junk bonds and so-called leveraged loans (to companies with high debt) has almost quadrupled since 2003, to a total of $616 billion issued last year, according to researcher Dealogic. Bonds of such companies as Greek dairy producer Fage and Germany's IKB are trading at 55¢ and 10¢, respectively, on the dollar. Weakened European banks—like UBS (UBS) and the Royal Bank of Scotland Group (RBS), which were exposed to the U.S. mortgage meltdown—may be forced to shed billions of dollars more in assets if a slowdown spreads through Europe. "Banks and investment banks are having to sell things they wouldn't have sold in previous cycles," says Julian Nichols, head of European distressed products at Deutsche Bank (DB).
For U.S. financiers, that makes for good hunting. Jeffrey Lefleur, executive director of New York real estate investment company W.P. Carey (WPC), says that half of his company's business now comes from financing European companies. Apollo Management, Carlyle Group, and Blackstone Group (BX) are expected to invest much more in distressed European assets. All firms declined comment on their strategies.
For now, few Europeans have a chance to exploit the pain. Only about 13 distressed funds have been launched in Europe since 2003 to focus on the Continent, Preqin estimates, and those funds average a mere $400 million in assets. With a growing number of U.S. competitors circling, more Europeans may start looking at deals in their own backyard.
Before it's here, it's on the Bloomberg Terminal.
LEARN MORE