Political Ads: TV's Last Bonanza
Election campaigns give local stations a huge boostbut it's not enough to rescue 2008
Jon Fine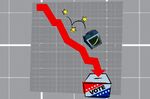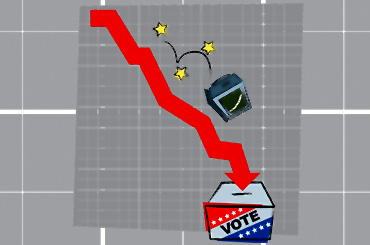 The political conventions bring to an end the silly season of this (interminable) election cycle, and now a nation will focus on the serious business of electing a President…No. Stop. Why kid ourselves? The really silly stuff is only beginning. Brace yourself for attack ads by the boatload. Shadowy advocacy groups will crawl out of the woodwork solely to fund vicious takedowns. The starting guns have just sounded for marathons of spin and counterspin on crucial issues, like how much the candidates' houses are worth. Soon, most pundits will express outrage. Soon, most citizens will express exhaustion. Just about the only happy folk, besides seriously degenerate political junkies, will be the owners of local TV stations. They stand poised to grab 70%, or more, of the $2 billion that could be spent between Labor Day and Election Day. (Researcher TNS Media Intelligence says $800 million has been spent thus far.)
Deep Doldrums
Absorb those figures for a moment. Now absorb this: It has been such a lousy year for local TV that not even a billion bucks will stop stations from scoring less revenue than they did in '07. A down '08 will follow a revenue decline in '07. (Some blame this—natch!—on comparisons with robust '06 election spending.) And Lehman Brothers (LEH) analyst Anthony DiClemente forecasts another fall in stations' revenue in '09. This, he says, would be the first time local TV posted three straight years of drops for the duration of the available historical data, which go back to 1960.
Wags acknowledging its ferocity like to say (over and over again) that politics ain't beanbag, and it certainly isn't for media properties located where its battles rage. Owning an important station in a state with a fiercely contested election is a gusher, even in a non-Presidential year. In 2006, Meredith Broadcasting President Paul Karpowicz had the fortune of counting among his stations Hartford's CBS affiliate WFSB. That year, incumbent Senator Joe Lieberman won as an independent in a three-way race, after losing the Democratic primary. Political advertising accounted for around 20% of WFSB's total ad revenues that year, says Karpowicz. A hot Presidential primary season can similarly bless a luckily situated station group. Hearst-Argyle Television (HTV) owns key stations in the early primary states of Iowa, New Hampshire, and South Carolina, which allowed the company to beat its internal political ad expectations by 20%, says Kathy Keefe, sales vice-president.
But local TV's leading category—automotive—is suffering mightily now as the giants of Detroit reel. Automotive, says Karpowicz, is 25% of his stations' business. And, TV executives point out, other key categories such as retail and telecommunications are weak, too, amid a consumer pullback and continuing economic woes. Political spending "is going to get hot, but it's not going to be the kind of year most people hoped for," says John Hendricks, who oversees ad sales at Tribune's (TRB) broadcasting unit. "Any major station group will tell you this year has been a huge disappointment." Despite the long primary season, ad revenues dropped almost 4% in the first half of '08 and over 6% in the second quarter, according to industry trade group Television Bureau of Advertising.
I've mentioned here previously that politics is the last major ad category that so slavishly worships TV, and this raises its own issues. "The calendar could run out before the money does," says Evan Tracey, who tracks political ads for TNS. "If you're going to try to get a TV spot in central Florida or Ohio, be prepared to pay through the nose to get [an ad on] the equivalent of Wayne's World." There are some situations, though, that not even a roller-coaster, cash-crazed election cycle can salvage. The viewers, as always, will suffer deeply throughout all of it. But this year, once the election's over, the station owners will, too.
Before it's here, it's on the Bloomberg Terminal.
LEARN MORE