Newark and the Future of Crime Fighting
Mayor Cory Booker is betting that cutting-edge technology will reduce crime and spark an economic renaissance. But are citizens giving up too much privacy?
Spencer E. Ante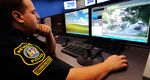 One recent spring day, two cops in the Newark Police Dept. watched a shoot-out erupt in broad daylight. Two suspected drug dealers started blasting away at each other in the middle of an apartment complex. The cops didn't witness the violence on the beat, though. They watched it from the city's new communications command center, which collects live video feeds from more than 100 surveillance cameras scattered across the crime-ridden city.
As the shooting broke out, the policemen zoomed in on the scene with a joystick controller. They saw one gunman flee, while the other dragged himself into a nearby apartment, one blood-soaked leg trailing behind. Because of the camera network, the Newark police were able to dispatch a team to the crime scene immediately—90 seconds before the first 911 calls. The gunman who crawled into his apartment was arrested on the spot. "Those complexes are like mazes, but we knew exactly where to send the unit," says Sergeant Marvin Carpenter, commanding officer of the communications post.
The surveillance system is the centerpiece of Mayor Cory Booker's ambitious plan to use cutting-edge technologies to slash Newark's violent crime rate. This August, Newark finished its initial deployment of 111 cameras, adding 76 to the 35 that were in place last summer. Newark is investing in a whole range of tools, everything from mundane PCs to more novel technologies such as a new citywide broadband wireless network that will let cops fill out police reports from their squad cars instead of schlepping back to the station house. By late fall, Newark expects to complete the deployment of an audio sensor system to pinpoint gunshot locations that cameras fail to catch. "We are trying to leave the Flintstones and get to the Jetsons," says Booker.
Major cities such as London, New York, and Chicago have rolled out larger video surveillance networks. But technology experts say Newark, New Jersey's largest city, is the first metropolis to combine an array of technologies on a large scale. "I haven't seen a city with this mix of technology all in one place," says Kevin Kilgore, president of Let's Think Wireless, a New York company that has built wireless networks for several hundred cities, including Newark.
Bangalore Across the Hudson
With a nod to New York City's revival, Booker is betting that crime reduction will trigger the economic rebirth of Newark, a city of about 280,000 with a proud industrial history that has never fully recovered from the upheavals of the 1960s. In a slowing economy, the charismatic 39-year-old, a Rhodes Scholar and graduate of Yale University Law School, is pitching Newark as a sort of Bangalore across the Hudson: a low-cost place to do business 10 miles from Manhattan, with the second busiest U.S. port, many transportation hubs, sports arenas, and a cluster of schools such as Rutgers University and Seton Hall University School of Law. "You can work your tail off on economic development, but businesses won't come if it's not safe," says Hans Dekker, president of the Newark Community Foundation.
Newark is also a test bed for the tensions between surveillance and privacy. Privacy advocates have raised concerns over the aggressive rollout of video cameras, audio sensors, and other technologies. Critics argue that such surveillance is susceptible to abuse, can have a chilling effect on public life, and hasn't been proven to reduce crime. "The costs are high, and the benefits in terms of law enforcement are low," says Deborah Jacobs, executive director of the New Jersey chapter of the American Civil Liberties Union (ACLU). Whether Newark can strike an acceptable balance between crime-fighting and privacy may determine whether other cities follow similar strategies in the future.
Already though, the business community is beginning to throw its weight behind Booker's plan. In August, Newark scored a big win when London-based Standard Chartered Bank (STAN.L) opened a new office downtown that will hold more than 500 employees. Inspired by the mayor's vision, financial executives, such as New York hedge fund operator William Ackman, have financed some of the new technologies that the city can't afford because of its $180 million budget deficit. And the Newark offices of big companies such as Verizon Communications (VZ), AT&T (T), Cablevision Systems (CVC), Public Service Enterprise Group (PEG), and Continental Airlines (CAL) are beginning to hire more residents from the city.
Audible.com, a subsidiary of Amazon.com (AMZN), is one of the companies that has jumped on the Mayor's bandwagon. Last March the company moved its headquarters and 165 employees out of Wayne, N.J., and into a 50,000-square-foot office in downtown Newark. Don Katz, Audible.com's founder and CEO, says the space is 50% cheaper than Manhattan real estate. And even though Katz expected Newark's reputation to scare away some employees, not one worker has left since the move. "For a long time, I thought it would be great if we could serve our shareholders and be part of an urban renaissance," says Katz. "All in all, it's been a complete win."
Improved Police Strategy
Newark does appear to be getting safer, though many areas outside the downtown district remain dangerous. This year there have been 37 murders, down 40% from 62 in the same period a year ago. Shooting incidents are down 19%. Over the last year, 101 arrests were made based on live or recorded video evidence. Police officials say the surveillance technology has helped but also stress the effort is one part of the police department's overall strategy. The department, for instance, has created a narcotics squad and added 159 cops since 2006, bringing the total force to 1,324.
Booker is encouraged by the drop in crime but says the city has a long way to go before it can declare victory. He hopes crime rates will continue to fall as the city rolls out the gunshot detection technology. "When I came in, a big consultant a told me a 5% to 10% reduction [in crime] is something to celebrate," says Booker. "I want people to see a 50%, 60%, 70% reduction in violent crime."
On a warm day this May, Matt Klapper, a precocious 25-year-old senior adviser, darts into the mayor's office. Standing in front of photos of Martin Luther King and Mahatma Gandhi that hang on the wall, Klapper unfurls a large map of the city on a table. The map is littered with red dots that mark the location of confirmed shootings. The vast majority of the dots, about 80%, are in the city's South Ward. His point: The city is not throwing cameras up everywhere but is placing them in a seven-square mile area where they can help the most. "This area will be saturated with cameras," says Klapper. "It's an area that has bled."
By taking a more targeted approach, Klapper and city officials believe, the surveillance network will reduce crime, while allaying concerns of privacy advocates. "The cost of pulling that trigger is about to go way up," he says.
To further limit the potential for privacy violations, Klapper and other officials have worked with the ACLU to develop a set of rules and standards. Among them: Cameras will not be allowed to peek inside homes, and the footage is only stored for 30 days. "There are a million ways this system could help if it's implemented intelligently," says Peter Lutz, Newark's director of Police Management Information Systems. "That's what's going to make the difference between us and other cities."
A Big Step Up
Booker is doing his best to shake up the city—and especially the police department. In 2006, when he took over from Sharpe James, a flamboyant and controversial figure who had won five straight elections, the police department had suffered from decades of underinvestment and corruption. Cops were writing on chalkboards and poking typewriter keys to file reports. There were nine cameras that no one was watching. "When I walked into our police precincts, I saw scenes that looked like Barney Miller," says Booker.
Soon after, he bucked the tradition of his predecessor by hiring an outsider to be his top cop: Garry McCarthy, a veteran of the New York Police Dept. McCarthy brought a higher level of professionalism to the force and rolled out Compstat, a data-centric system created by the NYPD that focuses on quality-of-life infractions and crime hot spots.
Crime began to drop. But in the summer of 2007 the city was convulsed by a triple homicide. Three kids, all of them either in college or on their way that fall, were gunned down in a city schoolyard. It was a turning point for the young administration. "This was just heartbreaking what happened to those children," says Newark Community Foundation board member and former New Jersey Bell CEO Alfred Koeppe. "There was a sense of: What can we do?"
The Mayor knew he had to respond forcefully. Days after the killings, Klapper, the young aide, set up a meeting at City Hall with police officials and local leaders to ask them to fund a pilot program for the camera surveillance technology. After hearing the pitch, Arthur Ryan, the former CEO of Prudential Financial (PRU), and private equity pioneer Ray Chambers decided to back not just a pilot but the whole program. They agreed to pony up $3.2 million so the city could roll out more than 100 cameras. "It is truly the grandest kind of social investment that I have seen in this city since the 1960s," says Koeppe, who helped broker the investment. Adds Klapper: "It was the best day in my life."
It's that kind of support that gives Don Katz even more comfort in his decision to make a bet on Newark. Now, Katz and other businessmen are hoping that the Newark revival will extend beyond downtown and into the city's more troubled areas. "You are aware that there is a disparity between your sense of safety downtown and some other neighborhoods," says Katz. "If Cory has his way, it won't end with downtown."
Before it's here, it's on the Bloomberg Terminal.
LEARN MORE