Obama and the Economy: Can He Connect?
While McCain woos voters with a national security pitch, Obama must win on the economya key campaign tenet. So far, he's short on details
Jane Sasseen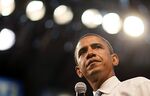 Back in 2004, senatorial candidate Barack Obama gave the speech of his life at the Democratic National Convention in Boston, in the process hurtling himself onto the supercharged path that has brought him to within days of being crowned as his party's new Presidential nominee.