Will the Olympics Boost China Human Rights?
Many were hoping a new openness would emerge as the mainland took center stage, but most experts agree the Games won't change much
By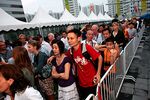 As the Olympics enters its final weekend, China's leaders probably feel they deserve gold medals of their own. The country has certainly had its fair share of problems. Terrorists took advantage of the global spotlight on China to launch deadly attacks (BusinessWeek.com, 8/4/08) in the western part of the country. A Chinese man stabbed and killed an American tourist the day after the opening ceremony. The on-and-off smog in the city has been an embarrassment. And the first week of the Games saw a surprising number of empty seats at many events (BusinessWeek.com, 8/15/08). But overall, the Games have gone smoothly, and stunning venues such as the National Stadium and the Water Cube have won rave reviews.