Why NAFTA Is Good for Entrepreneurs
Trade agreements are far from perfectbut resourceful small companies are finding ways to benefit from them
Jeremy Quittner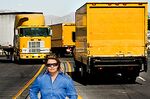 With the Presidential election just around the corner, we can expect a fresh round of debates on free-trade agreements. Currently, Republican candidate John McCain ardently supports FTAs, saying protectionism doesn't work. Democrat Barack Obama has blamed the agreements for job losses in the Rust Belt.
But are FTAs good for small business? Certainly they're far from perfect. So far, FTAs have given the environment and workers' rights short shrift; both need to be better addressed in future agreements. Congress has postponed a Colombian FTA because of serious human rights concerns, and the continued influx of undocumented Mexican workers across the border since the North American Free Trade Agreement (NAFTA) was passed suggests that their lot has not improved appreciably.
Still, FTAs can create important opportunities for small companies. With the economy in the dumps, export activity is one of the few bright spots, and anything that boosts trade deserves a hearing. Already the U.S. has some of the lowest import tariffs: an average of 4%, compared with 20% elsewhere. In theory, leveling the export playing field should help small business. And many entrepreneurs I've spoken to, even those opposed to FTAs, say the agreements have forced them to expand and think more creatively.
That's one thing President Bill Clinton had in mind when he signed NAFTA in 1993. He argued that opening trade among Canada, the U.S., and Mexico would make U.S. businesses more competitive globally. Since then the U.S. has signed over a dozen accords, including the Central America Free Trade Agreement, and a series of bilateral agreements, most recently with Peru. Other FTAs are pending with South Korea and Panama.
As the economy has soured, FTAs have taken much of the blame for U.S. manufacturing jobs moving to developing economies like Mexico. "The current way that trade is structured is correlated with job loss," says Susan Helper, economics department chairman at Case Western Reserve University, who believes FTAs are a contributing factor. In 2006, she studied 615 small companies, each of which was part of the supply chain for a Big Three automaker. Some 36% said they had relocated some or all of their manufacturing to Mexico (you can blame NAFTA here), and 43% said they had done so to Asia (we have no bilateral FTA with China, our largest Asian outsourcing partner).
In this environment, exports are a critical engine of job growth for smaller U.S. businesses. U.S. exports rose at an annualized rate of 5.4% in the first quarter of 2008 over the fourth quarter of 2007, about five times faster than gross domestic product, according to the National Association of Manufacturers.
I asked Joseph McGlynn, vice-president and co-owner of 50-employee Campbell Fittings in Boyertown, Pa., about the export market. He's no fan of FTAs. His $20 million company makes industrial hose couplings sold mainly through distributors. That client base keeps shrinking as the plants the distributors sell to leave the U.S. "That is the card we've been dealt," he says. McGlynn admits FTAs force him to think more globally. In the last five years he's cultivated buyers overseas, who now represent about 7% of revenues.
Amy Noyes goes even further. She's the president of 32-employee J.H. Rose Logistics, a shipping logistics company in El Paso, Tex. That's the state that has profited the most from NAFTA, with about 20% of the U.S.'s nearly $400 billion in trade with the NAFTA zone. Noyes feared increased competition would hurt her $46 million company. "There are companies on the Mexican side that do what we do, too," she says. But rather than compete, she's partnered with them to move freight in Mexico. "This has increased our business," she says, adding that in 2006 she opened a New Mexico warehouse with five new employees. Her increased flexibility, sophistication, and competitiveness are exactly what supporters of NAFTA intended—and they wouldn't be bad qualities for other entrepreneurs to emulate, either.
Back to BWSmallBiz August/September 2008 Table of Contents
Join a debate about NAFTA.
Before it's here, it's on the Bloomberg Terminal.
LEARN MORE