Skydiving as a Marketing Tool?
Skydiving as a marketing tool for an employee screening business? Two experts weigh in
Amy S. Choi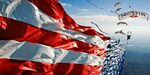 In 2002, serial entrepreneur John Hart was focused on building his Springdale (Ohio)-based employee screening company, Selection.com, when his brother David approached him about starting an entirely new business: jumping out of planes.
The brothers are both recreational skydivers, and John had jumped for the military in an earlier career with the U.S. Army's Special Forces. Inspired by the Golden Knights, the Army skydiving team and one of its biggest marketing and recruiting tools, they formed a skydiving-driven marketing company. The company would also plug Selection.com.
Start Skydiving, in Lebanon, Ohio, now has about $1 million in revenues and is wholly owned by John Hart. Its Team Fastrax does promotional skydiving stunts for various sponsors and vies with other teams. The company also runs a skydiving school.
Selection.com was Start Skydiving's first client. It sponsored Team Fastrax, slapping the Selection.com logo on everything from its parachutes and jumpsuits to its airplanes and trucks. "I wanted to prove that skydiving could be used as an effective marketing tool," says Hart. "People thought we were crazy, but just because somebody says it won't work doesn't mean it won't."
Team Fastrax now jumps at events ranging from air shows to NASCAR races and corporate conventions, flying banners with names of clients such as Hummer and the U.S. Army. But it always flies a Selection.com logo, too.
The quirky partnership is proving profitable for both companies. The 40-employee Selection.com has revenues of $10 million, up from $3 million in 2002. Hart credits that boost to the $250,000 it spends each year to sponsor Team Fastrax. (The company spends another $250,000 annually on more traditional marketing, such as trade shows and print advertising.)
Meanwhile, Selection.com has incorporated skydiving into each aspect of its brand, even running human resource seminars with the theme "Who's Packing Your Parachute?" emphasizing the importance of knowing your employees. And everything from the company's holiday cards to the name of its proprietary software—Fastrax, of course—emphasizes skydiving. "This is who we are," says Hart, who still jumps from 800 to 1,200 times a year. "Anything we can do to co-brand is a good thing."
Back to BWSmallBiz August/September 2008 Table of Contents
Before it's here, it's on the Bloomberg Terminal.
LEARN MORE