Should Entrepreneurs Take Summer Vacations?
Should Entrepreneurs Take Summer Vacations?
New Leaf Systems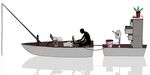 You don't have much time left for a summer vacation. But should you take one? Business coach Kerul Kassel, author of Stop Procrastinating Now, and Kenneth Siegel, a business psychologist, square off:
KERUL KASSELBusiness Coach and FounderNew Leaf Systems, Harmony, Fla.
• Entrepreneurs have a tendency to do things themselves, so if they go away, then the business stands still. That can be a problem for investors.
• There is so much prep work to do before you go on vacation and so much catch-up work when you get back, that it may be more stressful to take a vacation than not.
• You don't necessarily have to go away somewhere for an extended period of time. A 10-minute or three-hour vacation is easy and less expensive.
• Vacations in the summertime are more expensive and more crowded anyway, so why not wait? I hate taking vacations in the summer. It always costs more, and I enjoy it less.
KENNETH SIEGELBusiness Psychologist and FounderImpact Group, Beverly Hills, Calif.
• Most entrepreneurs unconsciously see themselves as the sole and best person to run their business. They have sophisticated explanations for why vacations are unimportant. On the surface, those explanations make sense, but they are fundamentally wrong.
viewpoints
• The idea of taking time off is essential for a human being's ability to live life well.
• Really going away, leaving your BlackBerry at home, tells the world that you are in control of your business, instead of your business being in control of you.
• The clear message for families of entrepreneurs is that they are always third or fourth place. Vacations give you time to reestablish meaningful connections that can get lost.
Back to BWSmallBiz August/September 2008 Table of Contents
Before it's here, it's on the Bloomberg Terminal.
LEARN MORE