Nintendo Hit by Another Wii Lawsuit
Hillcrest Labs' accusations of infringement come two years after the introduction, and huge success, of the revolutionary videogame controller
Kenji Hall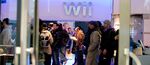 Could a patent fight force Nintendo (NTDOY) to pull its popular Wii videogame console from U.S. store shelves? That's how some investors seem to have interpreted Hillcrest Labs >' announcement on Aug. 21 that it was suing Nintendo in a district court in Washington, D.C.
Hillcrest alleges that the wand-shaped remote controller for the Wii uses technology that infringes on the Rockville (Md.) company's patents for a "handheld three-dimensional pointing device" and software that works with it on a TV. Hillcrest has also asked the U.S. International Trade Commission to ban import of the Wii. A Nintendo spokesman declined to comment, saying the company had not been contacted by Hillcrest Labs.
The news triggered a sell-off of Nintendo's shares in Japan. By the close of trading in Osaka, investors had knocked 3.6% off Nintendo's shares, which have fallen by nearly 25% since the start of the year. The Nikkei 225 Stock Average ended the day just 0.8% lower. The Nintendo slide suggested investors are bracing for the worst.
Suspicious Timing
But analysts say Nintendo has little to worry about. For one, Hillcrest's claim comes two years after the Wii has established a commanding lead over Sony's (SNE) PlayStation 3 and Microsoft's (MSFT) Xbox360—making Hillcrest appear to be an opportunity-seeking Johnny-come-lately. In July, Nintendo sold 555,000 Wii consoles in the U.S., while Sony sold 224,900 PS3s, and Microsoft 204,800 Xbox 360 machines, according to market research firm NPD. "You have to wonder about the timing of this," says KBC Securities analyst Hiroshi Kamide. "I think it's unrealistic to think [Hillcrest] can succeed at having Wii shipments to the U.S. banned."
Hillcrest Labs isn't the only company to take legal action against Nintendo since it pulled the wraps off the Wii in early 2006. And patent fights aren't unheard of in the video game industry. Nintendo, Sony, and Microsoft have spent years and invested vast sums to develop, license, and mesh all kinds of cutting-edge technologies into the gaming machines they sell. Every year they go to court to defend the hundreds of patents related to the video game hardware and software that bring in billions in revenues annually. Most cases take years to resolve.
Two years ago, Tyler (Tex.)-based Anascape sued Nintendo of America, saying the Japanese company violated patents in three different Nintendo console controllers. Last month a U.S. District Court ordered Nintendo to pay $21 million in damages and $2 million in prejudgment interest to Anascape. (Anascape had asked for $50.3 million.) Nintendo has appealed the ruling. Last December, Pittsburgh-based Copper Innovations Group took Nintendo and Sony to court for patent infringement over handheld controllers. In June 2007, tiny Lonestar Inventions sued Nintendo in Texas, claiming semiconductor-technology-related patent infringements. And in late 2006, Los Angeles-based Interlink went after Nintendo in Delaware for alleged patent violations in its Wii console's remote controller.
A Modest Payout, At Best
The Wii controller has been key to Nintendo's rising fortunes. Shaped like a TV remote controller, the gizmo combines gyroscopic motion sensors and an infrared pointer. Gamers swing the controller like a bat or flick it like a fishing rod instead of having to master a dozen buttons. (In July, Nintendo announced a new add-on to the Wii remote, dubbed MotionPlus, which plugs into the controller and is designed to improve the accuracy of the motion-sensing technology inside.) When Nintendo released the Wii in late 2006, the controller won fans beyond just hard-core gamers.
Hillcrest licenses its technology to Logitech for the MX Air Mouse. But the privately held company hasn't had a huge amount of success in getting its technology adopted by consumer electronics companies. One possible conclusion of Hillcrest's lawsuit is a settlement with Nintendo. Even if the courts uphold Hillcrest's patent claims, the company's payday is likely to be in the millions, not the billions. That might sound like a lot. But for Nintendo, which expects an 8.8% gain in operating profit, to $4.8 billion, on a 7.6% rise in sales, to $16.3 billion, in the current fiscal year through March 2009, that's not a huge writeoff.
Business Exchange related topics:Video Game IndustryJapan's EconomySonyMicrosoftDigital Rights Management
Before it's here, it's on the Bloomberg Terminal.
LEARN MORE