McCain and Obama on Small Business Issues
Where McCain and Obama stand on small business issues, and where they differ
Amy Barrett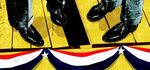 Who do you like for President in 2008? Or, to put it another way, how's business? Those looking to launch a new company and those doing business in the inner city may be interested in Senator Obama's plans to cut the capital gains rate for investments in small companies and to launch new business incubators. Business owners making more than $250,000 annually or looking to pass a substantial business on to their heirs may find more to like in Senator McCain's tax policies.
Despite recent outreach efforts by both men, some 80% of entrepreneurs could not name any ways in which either candidate says he will help small businesses, according to a poll of 400 business owners conducted by Suffolk University for turnaround specialists American Management Services. With small business owners and their employees representing 32% of all registered voters, that's hardly a block of voters either candidate can afford to lose.
For a look at the candidates' stances on taxes, health care, trade, and startup incentives, click on this table.
Back to BWSmallBiz August/September 2008 Table of Contents
Business Exchange related topics:2008 Election Economy and the Election US EconomyRecession Spending and InvestingSmall Business Operations
Before it's here, it's on the Bloomberg Terminal.
LEARN MORE