How Pianist Angelia Jia Kim launched Om Aroma
How Pianist Angelia Jia Kim launched Om Aroma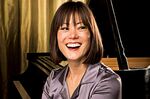 I was on a tour in 2002 and all of the traveling was really taking a toll on my skin. One night I tried a "natural" lotion before I went on stage. While I was performing, I felt this burning sensation all over my face. Afterward, when I was signing cds, a woman came up to me and said: "You look terrible. Your face is as red as your gown." After the tour, I went home and decided to make a natural cream myself. When I wasn't practicing piano, I experimented with dozens of ingredients in my kitchen.
The business has grown tremendously through word of mouth. I'm still working as a professional musician. I have 40 concerts this season and practice four to six hours a day. In the arts, you're always working toward this impossible perfection. I approach the business the same way. It's all about hard work, persistence, and passion.
Back to BWSmallBiz August/September 2008 Table of Contents
Before it's here, it's on the Bloomberg Terminal.
LEARN MORE