Getting a Better Deal on Commercial Real Estate
The commercial real estate market is tilting in tenants' favor. Now that you have a little leverage, here's how to make the most of it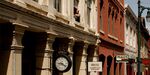 Sitting in his new office overlooking Austin's bustling 6th Street, Spacial Audio Solutions CEO Bryan Payne can't help but see a silver lining to the topsy-turvy economy: cheap rent. Last year, Payne hunted for office space in this same area and came up empty-handed.
It wasn't enough for Payne to be in Austin. He wanted to be on 6th Street, Austin's main thoroughfare for clubs, restaurants, and live music. "Our business is all about music, so it made sense to be in the thick of it," says Payne. His company, which sells streaming and advertising software for Internet radio, has gone from 7 employees to 20 in the past year. Revenue, at $1.7 million in 2007, is on track to double in 2008. Payne wanted space that was raw, but not too raw to have clients in, and he needed room for up to nine people. He could spend $4,000 a month, but at that price all he found were old bars and restaurants that needed to be converted.
Payne took his time. He moved from Lubbock, Tex., to Austin, working out of a home office while he continued to search. Eventually, his patience was rewarded. In April, Spacial moved into a 1,680-square-foot office in historic Hannig Row renting for $2,200 a month. "They even gave us three weeks of free rent," says Payne.
While commercial real estate hasn't been hit nearly as hard as residential, the market is still probably weaker than it was the last time you shopped for space. Nationally, the vacancy rate for all office space was about 11.7% in the second quarter, according to CoStar Group, a commercial real estate reporting agency. That's up slightly from 11.1% in the second quarter of last year, but a lot lower than in the mid-1980s, when vacancy rates reached 20%. Nationally, office rents are holding steady at about $25 a square foot for full-service rent, which includes utilities, taxes, insurance, and cleaning. In some markets, rents are even going up. Still, higher vacancy rates are an early sign that "the market is moving from a landlords' market to a tenants' market," says Rick Davidson, president of Coldwell Banker Commercial. If you're a business owner looking for space, thinking of moving, or renegotiating your terms, it's time to start flexing some muscle.
For many entrepreneurs, real estate is a huge cost, second only to payroll. So moving is not a decision to be taken lightly. Start by thinking about the relationship between your business and the roof over your head. How much space do you need, and what kind of space should it be? Then there's location. In retail, it's everything; for a high-tech startup it may not matter. What features are key? Control of the thermostat might seem like an afterthought until you work a long weekend in August. And you'll need a good broker—one who knows the market, has good relationships with landlords, and understands your business. When it's time to negotiate, you'll want to pick your battles; landlords are willing to make some concessions, but not all.
Most important, take your time. "In this market you shouldn't feel pressured to make any decisions," says John Gates, president of brokerage for the Americas at real estate company Jones Lang LaSalle. "If anything, the market will continue to advance in your favor."
MAKE YOUR LISTS
No space, at any price, is likely to be perfect. "Make sure you have a 'gotta have' list and a 'like to have' list," says Michael Harrity, an adjunct professor at Babson College and managing director of Boston-based Matrix Real Estate Advisors. Refer to that list as you're looking, and don't be too quick to settle for space that doesn't work as is. Air conditioning, heat, parking, storage, natural light, and noise can each mean the difference between a great space and a big fat compromise. And while you can always change a space to make it work, that's going to cost you. Even if the landlord is willing to shell out some cash for tenant improvements, says Coldwell's Davidson, he'll rarely kick in enough to cover all of the costs of outfitting a new place.
Location—whether on the "gotta have" or the "nice to have" list—is likely a top priority. Anna Gervait, CEO of Agile Communications Group, recently decided that a short commute trumped a swanky address. In June, she moved her six-employee tech startup from a 1,500-square-foot executive suite in downtown Tampa to a prewar building just south of there. When she moved into the executive suite in 2006, she says, it was all she could find. The building, with its enormous glass atrium and prestigious address, was impressive. But at $5,400 a month, rent was a big drain, and clients rarely saw the place. What's more, "We had no control of the air conditioning," says Gervait. Hardly ideal for a startup whose employees often work odd hours supporting customers who use its software to send mass text messages to clients.
This spring, Gervait and COO Rick Bowen set out to look for new space. They had three main criteria: They wanted cheaper rent, shorter commutes, and control of the thermostat. "One day when I was pulling out of my home garage I saw a tiny sign saying office space for rent," says Gervait. She saw the building with her broker, "and we immediately knew it was almost perfect." They got more space, cut their rent by more than half, and now Gervait walks to work.
Waiting out a softening market helped Payne get into his Hannig Row office, but getting a new broker was important, too. The new broker—a college pal of Spacial's head of business development—got to know Spacial's business and, consequently, had a better grasp of what the company needed. That's no accident, says Davidson. If a prospective broker seems more interested in talking up his credentials than getting to know your business, move on.
MATCHMAKING BROKERS
A broker's relationship with landlords and property managers is also important. When it's time to negotiate the lease, some landlords prefer to give concessions up front—allowances for tenant improvements, a short grace period that is rent-free—rather than lower the rent that appears on the lease, says Rick Wolfe, a managing partner with the commercial division of Keller Williams Realty. Others are reluctant to spend money until they can be sure you're going to stay in your lease and pay the rent on time. Inform your broker of your priorities so he can match you with like-minded landlords.
While the broker is contractually obligated to put your interests first, he'll have a better shot at finding the right fit if he's on good terms with landlords. That, says Payne, proved key when it came to finding precious office space in an area that caters mostly to clubs and restaurants. A month after switching brokers, Payne had leads on about a dozen offices in the area. The space in Hannig Row, he says, "was exactly what we wanted."
Although Payne's head count is growing, many of his workers are based overseas. For other entrepreneurs, growth means finding ever bigger space. Evan Blaustein and his wife, Cecile, ran their startup, mimoco, out of their home in its infancy. The company, which makes flash drives in decorative cases, was born in their one-bedroom apartment in Brookline, Mass., in 2005. When they moved to a two-bedroom condominium in 2006, the business moved with them. The price was right, but space was tight. "In our condo we couldn't hire more employees," he says. After an 18-month search, Blaustein moved mimoco into a 1,900-square-foot space on the outskirts of Boston in early 2007.
By summer they'd outgrown that space and started eyeing other offices in the building. "The Web developers next door had more space than they could afford," he says. "So we took over half of their space and eventually hired the Web developers to work in-house [for us]." The 18-employee company, which did $2 million in sales last year, could very well outgrow its 3,400 square feet in the next year. At that point, says Blaustein, they'll probably need to relocate. "The next time we move," he says, "I think we'll be in a pretty good position to negotiate." He thinks the real estate market will still be soft but expects his business' finances to be stronger.
A TENANT'S MARKET
When the market was tilted in landlords' favor, leases were typically three years, minimum. That's not ideal for a business in growth mode. You don't want to pay for more space than you need, but you also don't want to be stuck in space that you've outgrown.
Now you may find that you can have it both ways. "Landlords are more open to flexible options now," says Gates. If your business is growing, ask for a shorter-term lease with an option to extend. Payne, for one, signed an 18-month lease with a first right of refusal on any space that opens up in the building. Gervait inked a 60-day lease on her office with rent fixed for one year. "We expect to double our number of employees in the coming months," she says. To the extent it can, the company will encourage employees to telecommute and use shared desk space when they're in the office. But should it need more space, Agile won't be locked into a long-term lease.
When it's time to negotiate price, you'll want to consider immediate savings vs. recurring savings. If you're short on cash but your company's growth prospects are strong, it might make sense to ask the landlord to foot the bill for tenant improvements or give you anywhere from a month to three months of free rent. "You might also be able to negotiate smaller rent increases early on, followed by higher increases down the road," says Davidson.
If you're more concerned about containing your monthly costs for the next few years, focus on reducing your monthly rent, even if it means forgoing up-front freebies. In the case of a net lease, where you pay a la carte for utilities, cleaning, insurance, and the like, look beyond the base rent, says Jay Butler, director of realty studies at Arizona State University's Morrison School of Management. You might have better luck chipping away at these other expenses or, at the very least, capping their annual increase, reducing the chances that you'll have to go office hunting—again—in the near future.
For more, go to businessweek.com/go/sb/realestate
Back to BWSmallBiz August/September 2008 Table of Contents
Before it's here, it's on the Bloomberg Terminal.
LEARN MORE