ANC Builds Hi-Tech, Hi-Def Scoreboards
ANC brings high-def appeal to an American tradition
Amy S. Choi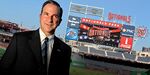 He's not building baseball fields with supernatural powers, but Jerry Cifarelli brings sports teams his own brand of magic. His company, ANC Sports Enterprises in Purchase, N.Y., installs and manages soaring, high-definition digital signs and scoreboards. ANC's proprietary technology allows all kinds of images—scores, advertisements, instant replays, or real-time video of the game—to run across a single high-definition LED screen. Other signs can't multitask as well, and not in high def. ANC's scoreboards give teams more ways to interact with fans and more control over how advertising is displayed.
In March, ANC unveiled a 45-by-100-foot digital scoreboard—roughly the size of a basketball court—at the new Nationals Park in Washington. "We chose [ANC] because they can meet any project specification and provide great service through the whole process," says John Guagliano, vice-president for marketing and broadcasting for the Washington baseball team. "And Jerry is a great leader. He cares."
It's a good time to be in signs, especially the high-end digital variety. Sports teams are revamping their stadiums in search of the newest, shiniest, and easiest ways to lure advertisers and boost fan participation. That translates into big bucks for ANC, whose revenue jumped to $60 million in 2007 from $25 million a year earlier.
In addition to the project for the Washington Nationals, Cifarelli and his 60 employees will install a $10 million LED scoreboard at Camden Yards' Oriole Park in downtown Baltimore this year. They've also lined up several contracts of $2 million to $3 million for smaller college and high school stadiums.
Cifarelli was a sales and marketing exec with stints at Dorna USA, Katz Communications, and Saatchi & Saatchi under his belt when he persuaded Alan Cohen, then one of the principal owners of the Boston Celtics, to work with him in 1997. They made rotational signs—paper signs on rollers that could be turned to different advertisers. "We had a lot of success initially," says Cifarelli, 53. "But the world was changing fast, and our clients—the teams—wanted more control over when and how they displayed the ads." No one was happy to see a beer ad on the scoreboards when they could be watching a replay of a controversial call.
Initially, Cifarelli worked with small producers in China to build high-def screens, but, he says, "we were always outgrowing our manufacturer." Now, a partnership with Mitsubishi Electric makes ANC competitive with larger companies. "It's definitely different working with a partner on the scale of Mitsubishi," says Cifarelli. "You're not going to squeeze their schedule." Working with Mitsubishi keeps ANC out of bidding wars and lets it sell itself as a high-end boutique supported by a major manufacturer.
Cifarelli now wants to find a strategic investor that can boost ANC's presence in sports marketing and help catapult it into other industries. Now that would be hitting it out of the ballpark.
Back to BWSmallBiz August/September 2008 Table of Contents
Before it's here, it's on the Bloomberg Terminal.
LEARN MORE