Mizuno Absorbs Olympic Swim Rejection
After losing out to Speedo's high-tech LZR Racer swimsuits, Japan's sportswear company is eyeing its country's most popular sport: baseball
Ian Rowley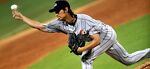 With two more gold medals in Beijing, Japanese Olympian Kosuke Kitajima is on his way to becoming the world's greatest breaststroke swimmer. After bagging two golds in Athens four years ago, the 25-year-old from Tokyo on Aug. 14 won gold in the 200-meter breaststroke in Beijing, and that was on top of a world record-breaking swim on Aug. 8 for 100 meters.
Yet while Japan rejoices at Kitajima's success, executives at Japanese sportswear company Mizuno (8022.T) may have mixed emotions. After all, in June, Kitajima called on the Japan Swimming Federation to let its swimmers ditch Mizuno swimsuits (BusinessWeek.com, 6/8/08) in favor of British Speedo's high-tech LZR Racer gear (BusinessWeek.com, 4/14/08), which has been credited for helping U.S. star Michael Phelps and other swimmers break world records this year. Kitajima got what he wanted: His two golds were both achieved while he was wearing the high-tech Speedo swimwear. Just as galling, before the launch of Speedo's LZR Racer line in 2007, Mizuno canceled a licensing contract it had with the British company—several years early.
Still, a successful Olympic campaign for Japan's highly rated baseball team, nicknamed Hoshino Japan after coach Senichi Hoshino, could have Mizuno executives smiling again. The Osaka-based company, which has suffered a 20% drop in its stock price this year, makes the Japanese team's uniforms and, with baseball the biggest sport in Japan, a strong performance by the Japan team could make up for some of those lost swimwear sales. "If Hoshino Japan wins, most amateur baseball teams will likely copy the same vertical-striped uniforms," a Mizuno source told the Sankei Shimbun, a Japanese daily, before the Olympics got under way.
Old Stalwarts, New Superstar
According to pundits, Japan's baseball team has a great chance of taking gold in Beijing. That's despite a disappointing 4-2 defeat in their opening game Aug. 13 against Cuba. Recent history suggests they have reason to be confident: Japan won bronze in Athens (Cuba took gold), and the current squad includes five members of the team that won the inaugural World Baseball Classic in 2006.
What's more, among the newer faces is superstar pitcher Yu Darvish. The gangly 21-year-old starts for Japan's colorfully named Hokkaido Nippon Ham Fighters, and in 2006 helped the team win its first Japan Series since 1961. Already on the radar of several Major League teams, Darvish—who stands 6 feet 5 inches, has an Iranian father, and is married to an actress—has enough star quality to make up for the loss of Major League stars like Daisuke Matsuzaka of the Boston Red Sox or the Seattle Mariners' Ichiro Suzuki.
Staying in the Swimwear Game
A gold medal for the Japanese team would catapult Darvish to legend status and give Mizuno welcome publicity. Still, Darvish has some work to do. "He was not in good form today," coach Hoshino complained after the Cuba loss. "He did not do his job today."
Even if the Japan team turns things around, Mizuno would be wise to ramp up its swimwear efforts in time for London in 2012. As things stand, Beijing will be the last Olympics to feature baseball; the International Olympic Committee voted baseball out of the London Games.
To close the gap on Speedo, Mizuno is planning new, faster swimsuits of its own and emphasizing that its swimwear line rivals LZR Racer for lightness and freedom of movement. "We will have plenty of opportunities, such as the world swimming championships next year in Rome, to boost our brand image," Mizuno President Akito Mizuno told the Nihon Keizai, Japan's leading business daily, in July. "Athletes and businesses have one thing in common—we cannot win every single game."
Before it's here, it's on the Bloomberg Terminal.
LEARN MORE