Michael Who? Park Is Star Olympic Swimmer in Korea
Park Tae Hwan has emerged as South Korea's most marketable sports hero after winning Olympic gold in the 400-meter freestyle
Moon Ihlwan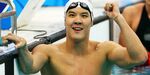 The world may be in awe of American swimmer Michael Phelps' epic victories in the Beijing Olympics' Water Cube, but for South Korea the hero stealing the show is teenager Park Tae Hwan. The 18-year-old gave Korea its first Olympic swimming gold medal on Aug. 10, in the 400m freestyle, and emerged immediately as the country's most marketable sports star (BusinessWeek.com, 8/8/08). "Park Tae Hwan's first gold in swimming—$300 million in economic effects," proclaimed a headline in the Korea Economic Daily. "Park Tae Hwan tsunami in men's freestyle monopolized by Westerners," said the influential Chosun Ilbo newspaper; Park's win was the first Olympic victory by an Asian in any freestyle swimming event in 72 years.
The buzz around Park, called "Marine Boy" in his homeland, is likely to get even louder. Advertising agents and sportswear makers cited in the local media figure Korean companies will set aside some $200 million for Park-related advertising, while annual sales for swimsuits and gear, now put at around $220 million, will rise by some 20%. Some hope a Park-induced swimming boom will help Korea host the 2013 World Swimming Championships. That could lead to the construction of more swimming pools and create more jobs nationwide.
The biggest beneficiary of Park euphoria for now is SK Telecom (SKM). The largest Korean wireless carrier, which last year signed a two-year sponsorship contract with Park, has enjoyed enormous visibility as Koreans have focused their attention on the young Olympic swimmer. Planning ahead, SK had a series of advertisements ready to run should Park win a gold.
SK Hails "Marine Boy"
The ads link SK's sponsorship of the sporting hero to its "T" phone service brand. "We are proud of you, Marine Boy," SK announced. "T as you think." Forty-seven percent of all Korean households saw the commercial. "It was a jackpot for our marketing efforts," says Lee Hang Soo, senior vice-president at SK, which had promised to pay Park $100,000 for each gold medal, $50,000 for silver, and $30,000 for bronze.
SK's marketing coup continued on Aug. 12, as Park drew huge audiences in the 200m freestyle competition, where he won the silver medal behind Phelps. Even as the American star put on a captivating display to seize his third gold medal of the Beijing Games and a record-tying ninth of his career, Koreans were thrilled to watch Park beat Peter Vanderkaay of the U.S. for second place. Park is also due to take part in the 1,500m freestyle.
Other companies are jumping on the bandwagon to benefit from the marketing buzz created by Park. Kookmin Bank (KB), Korea's largest bank, and beverage producer Lotte Chilsung both struck advertising deals with Park after he won the world championship in the 400m freestyle at Melbourne last year. Now, Kookmin and Lotte have rushed to launch campaigns to take advantage of his Beijing gold. Park's parents have told reporters more than 20 companies have approached them for advertising deals.
Nike and Adidas May Boost Presence
Marketing experts predict foreign sporting gear giants will move in, too. "Park will be the most coveted target for both local and foreign companies seeking endorsement deals," says Lee Chang Sik, sports marketing specialist at communications consultants KPR & Associates. In view of significant growth potential, the likes of Nike (NKE) and Adidas (ADDDY) will likely boost their presence in Korea's swimming gear market, industry officials say.
So far the most active foreign brand is Speedo, which concluded a $3.2 million sponsorship deal (BusinessWeek.com, 4/14/08) with Park in 2006 when he won the 200m, 400m, and 1,500m freestyle at the Doha Asian Games. "Just like [Korean golfer] Se Ri Pak created a nationwide passion for golf by winning an LPGA U.S. Open in 1998, Park may well generate a swimming boom among Korean kids," says KPR's Lee.
Before it's here, it's on the Bloomberg Terminal.
LEARN MORE