Grocers: A Shift Toward Thrift
Midsize supermarkets are scrambling to hold on to strapped customers, who are increasingly opting to buy groceries from the deep discounters
Aili Mcconnon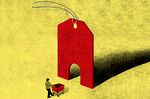 Supermarket chains got a boost earlier this year as U.S. consumers began to cut their expenses. Fewer evenings out meant more meals at home, and rising food prices sent shoppers reaching for store brands.
But now, a number of the nation's largest supermarket chains are finding that a tighter economy is prompting some customers to look for cheaper options. Executives at midmarket grocery giants such as Safeway (SWY), SuperValu, (SVU) and Delhaize Group (DEG) have cut their growth projections recently amid slowing sales. The problem: More Americans are buying food at Wal-Mart (WMT) and deep-discount stores such as Aldi. TNS Retail Forward, which tracks retail trends, published a study in July that found at least one-fifth of consumers have switched their shopping to discounters for food and household essentials. They're accepting less product selection in return for lower prices. As Todd Hale, a senior vice-president at Nielsen, notes: "Everyone wants value."
That's forcing a strategic shift at mid-tier chains that had thrived in recent years by expanding their product lines and spiffing up their interiors to compete with upscale rivals like Whole Foods (WFMI) . Now they're hawking low-cost meals to compete with restaurants and ramping up gas discounts. Safeway, which operates 1,740 stores in the U.S. and Canada, is reducing the price of staples such as milk, eggs, and laundry detergent to "soften the blow as best we can for consumers," says Senior Vice-President Melissa Plaisance. SuperValu CEO Jeff Noddle notes that his customers are buying more sale items, house brands, and cheaper cuts of meat. "People are shopping differently," says Noddle, whose chain has 2,475 stores across the country.
CHEAP TRICKS
SuperValu has adopted some tactics of its discount unit, Save-A-Lot, which offers a reduced selection, such as one house brand of strawberry jam instead of the usual half-dozen mix of brands. SuperValu is beefing up profitable house labels at stores such as SuperValu, Albertsons, and Shaw's. The company may also extend a new Save-A-Lot initiative, called "Fuel your Family," that suggests food combinations to feed a family of four for less than the cost of a gallon of gas.
One of the most resilient chains is Kroger (KR), which has 2,474 stores and is second only to Wal-Mart in grocery sales across the U.S. It posted a 15% increase in profits last quarter and forecasts sales growth of 4% to 5.5% this year. Kroger now offers 10 cents off each gallon of gas for every $100 spent on groceries (15 cents off for those who use a Kroger card). In May, the chain started selling 30-day supplies of more than 300 prescription drugs for $4 in all of its stores, which include City Market, Dillons, and Scott's Food & Pharmacy. Back in 2003, Kroger hired dunnhumby, a data-mining firm owned by British retailer Tesco, to understand its customers' shopping patterns better. The findings helped Kroger tailor its marketing with strategies such as mailing baby-product coupons to customers who buy diapers and sending coupons to customers' mobile phones. The approach has built such customer loyalty, says Citigroup (C) retail analyst Deborah Weinswig, that "Safeway and SuperValu may never be able to catch up."
Before it's here, it's on the Bloomberg Terminal.
LEARN MORE