Glum Chums? Call in the Happiness Police
How business is raising spiritswithout raises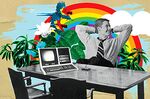 What a sad summer in Officeland. Raises and bonuses nowhere to be found. Expense accounts and headcounts skinnier by the day. Staycations morphing into fauxcations. No wonder the black dog is upon us. "It can become a negative energy field at the office really quickly," says Jeff Kaye, CEO of Dallas search firm Kaye/Bassman International. "It's so easy for an organization to get depressed."
Rome's rulers flung bread and threw circuses when the citizenry grew restless. Today's corporate brass are turning to low-cost, feel-good campaigns, and the "funcilitators" and "fun shui" experts are swarming Cubeville.
GLAD-HANDLING
For some companies that means superficial perkfests designed to produce fleeting Prozac moments. At London ad agency iris Worldwide, the CHO (title watch: chief happiness officer) has been dispatching "lash" squads to take the throngs on pub crawls. Or, if you can't enlarge their paychecks, why not just fatten them up instead? At accounting firm KPMG, employees received a summer sundae surprise: Six pints of gourmet ice cream, toppings, and a scooper. If comfort food doesn't do the trick, there's always oblivion. At the Dallas branch of PR firm Weber Shandwick, the beer fairy is big. Overindulgers can expense cab rides home.
Gratis entertainment can also help workers momentarily expunge their reality. The Los Angeles office of law firm DLA Piper recently whisked 400 employees and their families off to Disneyland for the day. Anything, says L.A. managing partner Michael Meyer, "that raises spirits and encourages a positive outlook."
Helping out with gas prices is another way to score happiness points. Safeco (SAF), Microsoft (MSFT), and IBM (IBM) are offering employees work-from-home opportunities and subsidies for alternative transport. At Atlanta marketing firm Write2Market, employees have to ask permission to drive into the office.
Some of these attempts at mood elevation and enforced fun sound like the work of the happiness police. But focusing on employee cheer capitalizes on findings of the positive psychology movement, which in the past decade has confirmed that happier, shinier workers make for bigger, fatter profits.
There's also this: Fear and anxiety arrive with every down-turn. And because companies in the global economy increasingly sell what's inside their workers' heads, managing all those alpha waves is becoming more important. Companies such as Qantas, BMW North America, and Sanofi-Aventis (SNY) are deploying experts to assess the emotional health of their ranks. Think of it as Six Sigma for humans. Fair warning, then—don't be surprised if, on your next performance review, there's yet another thing your boss will grade you on: mood management.
Return to the Business @ Work Table of Contents
Before it's here, it's on the Bloomberg Terminal.
LEARN MORE