Facebook: No. 1 Globally
The social network site has vaulted over rival MySpace in worldwide audience growth, thanks to tools that translate content into many languages
Catherine Holahan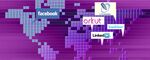 When Facebook CEO Mark Zuckerberg wants to illustrate the impact of his social network, he tells a story about several young religious militants from Lebanon who changed their view of Western culture through Facebook friendships. The subtext to the tale is that free expression of ideas, enabled by the Web, bridges deep cultural divides. But we knew that: It's one of the central concepts behind the Olympics, after all. What we didn't know is that Facebook is in Lebanon.
In fact, Facebook is quickly expanding in many regions. The site is the top global social network, according to figures released by comScore (SCOR) on Aug. 12. Of Facebook's 132 million users, nearly 63% are outside North America. The site, which had been translated into 20 languages including French, Spanish, and Mandarin, has recently added 69 more. "Now, through translations, we are seeing a lot of growth in international countries," says Javier Olivan, international manager at Facebook in a recent interview.
Viral growth
Facebook isn't the only social network focusing on international expansion. As American sites such as Facebook and MySpace, News Corp.'s (NWS) leading U.S. social network, saturate their home markets, they're looking abroad to fuel the audience growth that has made them so attractive to advertisers, audiences, acquirers, and would-be investors. MySpace, for example, has expanded to more than 29 countries, including India and Korea, in the past few years,.
MySpace is particularly frequented by users in the U.S., Puerto Rico, Australia, Britain, and Malaysia, according to a study showing where social networks are most popular that was released on Aug. 12 by Pingdom, a Swedish site that monitors Web site availability. Pingdom based its findings on the regions where a particular social network is searched for most often via Google, the most popular search engine. For instance, the countries with the greatest interest in LinkedIn, a network aimed at professionals, are India, the Netherlands, Denmark, Belgium, and the U.S., says Pingdom.
But Facebook has been particularly successful in terms of sheer user adoption. Its number of new members was up 153% in June from the same month a year earlier, driven largely by astronomical growth in Europe, Asia, the Middle East, and Latin America. Among specific countries, Turkey, Canada, Britain, South Africa, and Colombia have the greatest interest, according to Pingdom. In comparison, Facebook's North American audience grew just 38% in June vs. the year-earlier month and MySpace was up only 3%, according to comScore.
Advertising magnet
Facebook owes its results, in part, to its technology-driven international strategy. Rather than launch local-language versions of Facebook for new markets, complete with a local Facebook bureau, Facebook opted to provide translation tools (BusinessWeek.com, 5/14/08) that let users take the existing site and personalize it in their own tongue. The tools, which users can tweak to create more accurate translations, helped Facebook roll out in new countries faster than many rivals, giving it an early presence in local markets that grew exponentially as users encouraged friends to join the site. "It was a very scalable process," says comScore senior analyst Andrew Lipsman. "They have gotten these things up and going quickly, and the audiences are up."
MySpace has taken a different tack. It is opening offices in countries where it knows there are ad dollars, as well as friends, to be made. The strategy makes the company slower at expanding in new markets, but MySpace believes the approach ultimately makes its local offerings better able to reflect the cultures of new countries while also catering to advertisers. MySpace's non-U.S. audiences will soon account for more than 50% of the site's revenues, says Jeff Berman, MySpace's president of sales and marketing.
Hi5 is following a hybrid strategy. In May, the San Francisco-based social network launched tools letting users translate the site into any language. Before that, it hired a third-party provider, Lionbridge, to translate the site into languages like Japanese and make it reflect the added countries' cultures. The company's user base has grown to more than 56 million, thanks in large part to those efforts, says comScore's Lipsman. "Hi5 has really put an emphasis on cultural relevance beyond just the translation," says Lipsman. The site remains popular throughout Latin America, home to four of the five countries where it shows up most often in searches, according to Pingdom.
Although Facebook has focused on tools, it isn't ruling out opening local bureaus to help make the site more culturally relevant—and to sell ads. But executives aren't convinced that new offices are necessary. Once there are users, the thinking goes, advertisers will follow. "The platform is open, and as soon as advertisers find value they just start creating campaigns," says Olivan. "So it is pretty much universal."
Before it's here, it's on the Bloomberg Terminal.
LEARN MORE