UBS: Preparing to Dump Its Investment Bank?
The Swiss bank's division into three distinct units may presage a sale. Or UBS may be trying to make its investment bankers more accountable
Mark Scott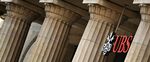 The market had been expecting the worst from the first-half results of Swiss financial giant UBS (UBS), the European bank most affected by the U.S. subprime crisis. Yet, when the figures were announced on Aug. 12, UBS Chief Executive Marcel Rohner and the rest of the board had a few tricks up their sleeves to help offset one of the worst 12 months in the bank's history.