United Airlines: O'Hare Today, Gone Tomorrow
Liquidating the carrier is the only way to fix its uniquely embedded problems
By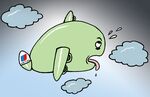 In a recent episode of United Airlines' (UAUA) sad saga, a surreal company press release promised to "take actions to protect customers" (and, for what it's worth, other employees) from certain United pilots, who in July were staging a work slowdown. Cue Gershwin, and come fly the friendly skies.
True, all airlines are getting slammed by high jet-fuel costs, airport congestion, and an inability to charge enough for tickets. But 80-year-old United seems uniquely, almost perennially, vexed, having just posted a $2.7 billion quarterly loss (more than Delta (DAL), American (AMR), and Continental (CAL) combined) on top of the billions more it has hemorrhaged since 2000. It would be hard to find another major airline taking such body blows from every direction. Or one so chronically incapable of preparing in the rare good times for the inevitable bad times.
Will the torture ever end? Only if United does. Travelers and the beleaguered air-transport system would be better served by United's creative destruction: Liquidate it and let stronger hands manage the pieces. As painful as it might sound, industry precedent and business logic almost demand it. United spokeswoman Jean Medina calls this "an absurd conclusion," citing the airline's "strong liquidity position" and free cash flow.
Lost Years
United, you might recall, very nearly flatlined in the wake of September 11, when it lost two of its planes. A little more than a year later, after the government refused its request for a loan guarantee, the airline succumbed to a Chapter 11 bankruptcy that became the longest in aviation history, spanning December 2002 to February 2006. In the process the carrier cut routes and slashed its payroll; launched Ted, a low-cost carrier of low success; and staged the largest pension default in U.S. history. For good measure, United managed to ring up $335 million in attorney and consultant fees.
The long pause didn't exactly refresh. In the 2½ years since United emerged from Chapter 11, its stock has fallen 75%. At one point last month, United's market value matched the above-mentioned legal bill. Alas, management's post-bankruptcy plan counted on oil averaging $50 a barrel, even though it was already at $65 at the beginning of 2006. The ensuing super spike went on to essentially cancel out United's cost savings.
But even if the airline devised a way to run its 767s on oil from all the peanuts it has wrested from passengers, the institution seems almost culturally incapable of banking a profit.
Pilot Problems
It all goes back to 1994, when United won salary concessions from workers by giving them 55% of the stock and three board seats, a gambit that theoretically should have aligned everyone's interests. But in mid-2000, when the carrier was raking in high fares during the dot-com boom and counting on a big summer, the pilots essentially shut down the airline to win a big raise. "We don't want to kill the golden goose," said Rick Dubinsky, then the pilots' union chief. "We just want to choke it by the neck until it gives us every last egg." Management caved, just as recession and September 11 lurked.
Shift ahead to last month, when United sued to block the pilots' union from continuing work slowdowns and sickouts that prompted 330 flight cancellations affecting 36,000 travelers.
The union's position: United pilots resent having to work for five years under "draconian contract and work rules negotiated under the duress of bankruptcy," in the words of a union hotline recording. The pilots then upped the ante by warning regulators that recent engine problems demonstrate how "maintenance standards have deteriorated at United as operational decisions are increasingly driven by economic considerations." They also called for the "incompetent" CEO's head.
"United's unions feel that they are being made to pay for management's mistakes," says Gary Chaison, a professor of industrial relations at Clark University. "It's as though they are senior partners in sharing losses but junior partners in partaking of the profits in better times."
Customer Dissatisfaction
Of course, "better times" presupposes a customer goodwill that United, fraught with so much infighting, isn't exactly nourishing. According to government statistics, the carrier consistently ranks near the bottom in U.S. airline-customer satisfaction. UAL's torpor may have affected its Chicago hub at O'Hare, which ranks last in on-time departures among the 32 busiest U.S. airports.
You practically have to stage your own sickout to avoid hearing United horror stories, such as this one from an irate BusinessWeek colleague at the water fountain: "Last week, I waited for six hours at LaGuardia, through two canceled flights—one of which was canceled 10 minutes before boarding—and little to no communication about what was happening. Finally, one passenger discovered via his phone's Web connection that there had been a pilot walkout."
At various points, United has tried (in fact begged, an executive tells me) to merge with Continental, US Airways (LCC), and Delta, all to no avail.
Is it any surprise? The entire system is hopelessly gummed up. Too many second and third chances. Too many inefficient players chasing too few dollars. With the margin for error now nanometrically thin, there's no spare room for United's peculiar baggage.
Back in the day, United and its big peers divvied up the posthumous spoils of the old Eastern Air Lines and Pan Am. It's time the tired octogenarian joined those dearly departed.
Before it's here, it's on the Bloomberg Terminal.
LEARN MORE