Olympic Ambush Heats Up Li Ning-Adidas Rivalry
The athlete and entrepreneur was the Games' final torchbearer, giving his lagging company priceless visibility and a boost that the official sportswear sponsor might covet
by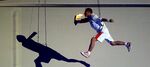 The slogan for the Beijing 2008 Olympic Games is "One World One Dream," but as I sat in Ditan Park last Friday evening with hundreds of other Chinese and foreigners watching the opening ceremony (BusinessWeek.com, 8/8/08) on two big TV screens, I couldn't help wonder what Olympic sponsor Adidas (ADDDY) was thinking as former six-time Olympic medalist Li Ning, who began a rival athletic apparel company under his own brand, lit the Olympic flame while suspended by wires 75 feet in the air.
By lighting the Olympic flame and overshadowing nearly $200 million in Olympic sponsorship and marketing spending by Adidas, Li Ning pulled off a spectacular bit of what advertising executives refer to as "ambush marketing:" a company tying itself in the public's mind to an event that one of its rivals is officially sponsoring (BusinessWeek.com, 3/13/08).
Having Li Ning's founder and chairman lighting the Olympic torch "might be one of the ultimate ambush activities," says Greg Paull, partner at market researcher R3 in Beijing. "It's going to have a huge impact on his brand because what they've been trying to do with the Li Ning brand (BusinessWeek.com, 5/1/08) is to make it seem more global. You can't get a better stage than the opening ceremony of a global event like the Olympics." In trading on Monday, Li Ning's Hong Kong-listed shares jumped 3.4%.
An Olympic Success Story
Li Ning, the company, could use the boost. Even with Monday's jump in its stock price, its shares are down 37% this year on investors' worries about competition from Nike (NKE), Adidas, and Chinese rivals. As recently as five years ago Li Ning was No. 1 in China, but it lost market share as Adidas and Nike expanded from Beijing and Shanghai to smaller cities.
In choosing Li, 45, to be the final torchbearer, Beijing selected an Olympian whose personal story embodies how far China has progressed since economic reforms began three decades ago. Born in southern China's Guangxi province, one of the country's poorest, Li joined the state sports school when he was 8 years old so his impoverished family would have one fewer mouth to feed during the famine caused by the Cultural Revolution. He was the first Chinese gymnast to medal in the Olympics, winning three golds, two silvers, and a bronze in the 1984 Los Angeles Games.
After failing to win any medals in the 1988 Seoul Games, Li retired and went into business. Without any support from the state, he started his eponymous athletic apparel company. Today, Li Ning is the third-largest sportswear company in China, behind Adidas and Nike (NKE). Li was the first Chinese athlete to become a millionaire.
Still, He Was Wearing Adidas
Millions of Chinese may find the choice of Li inspiring. But his prominence has no doubt given Adidas a jolt. Adidas shelled out a lot of money (about $190 million on sponsorship and Olympic-related marketing, says Paul Pi, China marketing vice-president for the company) to be the partner in the sportswear category for the Beijing Games, helping the Herzongenaurach (Germany)-based company grab the No. 1 market share in China. Adidas expects to generate $1 billion in revenues this year from China, which will make it the company's second-largest market after the U.S. "We are quite happy with our business here in China," Herbert Hainer, chairman and chief executive officer of Adidas told a media roundtable on Aug. 7, the day before the opening ceremonies. "We also believe that this growth will continue for the next several years here in China, first and foremost, because our brand is extremely strong here."
Playing second fiddle to a local rival at the opening ceremony wasn't part of the plan. Now, with Li Ning having scored a publicity coup in front of an audience of 4 billion, the German company is looking for silver linings. A company spokesman points out that Li actually wasn't wearing Li Ning clothes on Friday night. "Li Ning was in a torchbearer uniform which is from Adidas," says Jan Runau, chief corporate communications officer.
But the damage has been done. Every Chinese I spoke to Saturday knew that Li Ning was the final torchbearer, but no one knew who made the white torchbearer uniform he wore. "If I had to guess, I would say the uniform was from Li Ning's company," says Wang Zhong, a 32-year-old executive assistant in Beijing who watched the opening ceremony on TV at home. "Don't they sponsor the Olympic uniforms?"
Before it's here, it's on the Bloomberg Terminal.
LEARN MORE