AMD vs. Intel: The Challenger's New Plan
Struggling AMD may look to unload its chipmaking facilities to a partner to concentrate on battling the industry's giant
by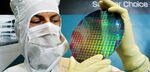 Chipmaker Advanced Micro Devices says it's about to go through a major change concerning how it makes chips, but it hasn't said exactly what that change will be. Speculating about it has become a great guessing game among Wall Street investors and Silicon Valley's chattering classes.
AMD (AMD) is suffering through one of the toughest stretches in its history, racking up losses of $1.6 billion on sales of $2.8 billion so far this year. It's now struggling with a nagging question: how to continue making chips for personal computers and servers that can compete with those of rival Intel (INTC) without having to bear the heavy expenses required to operate its chip factories known as "fabs."
AMD has said it's pursuing a new strategy it calls "asset smart," aimed at saving money while at the same time preserving its manufacturing muscle. Hector Ruiz, CEO up until he stepped down on July 17 (BusinessWeek.com, 7/17/08), says that in his new position as executive chairman he'll focus his attention on completing the transformation. Many chip industry analysts believe the outcome will either save the company or doom it.
At Least Some Outsourcing
The company has managed to keep a tight lid on its plans, unusual for the gossipy chip industry. The company declined to comment on its plans to BusinessWeek, beyond issuing a brief statement: "AMD continues to look at multiple options that leverage our world-class manufacturing capabilities and relationships to achieve an optimum blend of internal and external operations."
The phrase "optimal blend" is important, because it suggests that AMD is going to outsource at least some of its existing manufacturing operations. The backbone of its manufacturing operations are two fabs in Dresden, Germany, and all the chipmaking equipment in them. It also has two large test and assembly plants in Malaysia and Singapore, and a smaller one in China. One popular theory has AMD turning to a third-party chip foundry company like Chartered Semiconductor Manufacturing (CHRT) of Singapore to step in and operate the fabs under contract. Chartered already makes some of AMD's chips under contract to help AMD keep up with demand surges. Taiwan Semiconductor Manufacturing (TSM) handles manufacturing for AMD's graphics chip unit ATI.
Selling off fabs would have clear financial benefits for AMD, but would also expose some problems. For one thing it would go a long way toward cutting AMD's operational expenses, which were $1.6 billion in the first six months of the fiscal year, eclipsing its $1.3 billion gross margin. Unloading the fabs would put AMD in a class of chip companies who don't own their own factories, and thus hire companies like Chartered, TSM, United Microelectronics (UMC), and even IBM (IBM) to make chips under contract. Going "fabless" has meant success for chip companies as varied as Nvidia (NVDA), Broadcom (BRCM) and Qualcomm (QCOM). Still, such a move would fly in the face of AMD tradition: Its founder, Jerry Sanders, once famously quipped "Real men have fabs."
Maybe, but there are pitfalls to owning fabs. They're expensive to build—$3 billion to $5 billion each—and expensive to maintain. Competing with Intel means upgrading a fab with billions' worth of new manufacturing equipment every two years or so. There are also costs to holding chip inventory, which, given the volatile nature of the PC market (BusinessWeek.com, 5/30/07), has caused AMD to occasionally be left holding a lot of costly chips that are hard to unload.
Intel Deal Could Stand in the Way
Unloading the fabs to a foundry like Chartered might solve some problems, but it would create others. One important one: AMD would lose control of the up-close, day-to-day management of its manufacturing processes, which have over the years been a strategic advantage. "They know how to run a fab, and they do it well, and for the most part that's been a big help," says analyst Nathan Brookwood, head of Insight64, a Silicon Valley consultancy.
Going fabless might also run afoul of an important cross-licensing agreement between AMD and Intel. The deal, which is a leftover from their legal battles in the 1980s and was renewed most recently in 2001, expires on Jan. 1, 2010. Analyst Tim Luke of Lehman Brothers (LEH), in a research note issued July 23, says the deal likely limits the extent to which AMD could pursue a fabless arrangement, and that if AMD were to bring in an outside partner to run its fabs, it would likely have to retain ownership of at least 50%.
So is there a third alternative for AMD, something other than holding on to its fabs or selling them outright? Perhaps. Luke suggests splitting AMD into two companies, one devoted to design, the other to manufacturing. "A separate foundry function might enable it to compete with Intel without the capital required to keep up from a manufacturing standpoint," and manufacturing could be funded by an investment from a partner, probably Chartered.
There's another possible in-between path. Brookwood thinks AMD will sell the fabs and the equipment in them to a third party, and then lease them back. Such a move would allow AMD to retain full control of the fabs and operate them, yet greatly reduce the operational expenses. AMD would essentially be paying rent on the fabs and the equipment in them to a landlord.
Regulatory Approval
So who would that landlord be? Brookwood thinks a leading candidate might be a sovereign wealth fund like Mubadala Development, the Abu Dhabi-based fund that paid $622 million for a stake in AMD last November. At the time, the fund paid $12.70 a share for 49 million shares, an 8% stake. AMD's stock price has since dropped to less than half that, closing Aug. 8 at $5.13. "By taking ownership of the fabs, this fund might go a long way toward seeing its investment pay off," Brookwood says.
Such a deal would likely require the approval of government regulators in Germany, the European Union, and probably the U.S. That might explain why it's taking so long for Ruiz and new CEO Dirk Meyer to announce the plan. But would it pass muster with Intel under their cross-licensing agreement? After all, selling the fabs might arguably be considered the kind of change in control that gives Intel the right to cancel the deal.
But such a move is unlikely. Intel in recent months has been dogged by antitrust investigations in the EU, Japan, and the U.S. An unusual anti-AMD move by Intel may hurt the company's ability to argue that it's not a monopolistic bully.
So it looks like a major strategic shift is ahead for AMD. With lower operational expenses, the company would be able to concentrate on designing and selling chips. The company has proven that at times in the past it has been able to go head to head with the fearsome Intel. Even now it has a number of promising chips coming out in the near future, including one code-named Shanghai for servers and another code-named Puma for notebooks.
Unloading the financial burden of its fabs may let AMD do even more in the future. "There are some real bright spots in their product line," says analyst Dean McCarron of Mercury Research. "They do look like they are starting to turn a corner."
Business Exchange related topics:Intel vs AMDGlobal OutsourcingSemiconductors
Before it's here, it's on the Bloomberg Terminal.
LEARN MORE