What Will the Olympics Do for China?
Potential problems range from too much pollution to an act of terrorism. But a successful Olympics could improve Beijing's standing in the world
By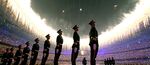 The Beijing Olympics opened on Aug. 8th with a pyrotechnic display of Chinese organization, technology, and talent in the Bird's Nest national stadium. The four-hour show directed by Chinese filmmaker Zhang Yimou featured more than 15,000 performers including martial arts experts, singers, and musicians performing before an audience of 100,000. Dancers performed skits heralding China's 5,000 years of history and invention while British soprano Sarah Brightman joined Chinese singer Liu Huan in singing the Olympic theme song. In attendance were more than 80 world leaders including U.S. President George W. Bush, Russian Prime Minister Vladmir Putin, and Chinese President Hu Jintao, as well as Microsoft founder Bill Gates, News Corp. mogul Rupert Murdoch, and Crouching Tiger, Hidden Dragon star Zhang Ziyi.
Beyond the fanfare and fireworks, the outcome of the Beijing Olympics—more than most previous Games—will have far reaching implications around the globe. A successful Games will help a newly confident China with its 1.3 billion people move more decisively toward economic openness and engagement with the world. Some believe a successful Olympics could spur a faster move toward political liberalization—much as the 1988 Seoul Olympics was seen as doing for South Korea. The Olympics too could highlight China's many economic and social achievements, helping overcome some of the misconceptions and fears about China's growing might still held by many in the world.
But a host of potential problems could also flare up and lead China in perhaps a different direction. The Beijing Games are opening with a lot of questions: Will the air magically clear (a gray pall hung over Beijing during the opening ceremony), or will pollution problems persist during the 16 days the Games run, hitting athletes hard? Will the inevitable protests, whether they be about Sudan, Tibet, or religious freedom, be dealt with calmly and create minimal disruption to the Games? Alternately, will the Chinese authorities use a more heavy-handed approach, inviting negative media attention from the 30,000 journalists come from around the world to cover the Olympics events? And will threats of terrorism remain just that—only threats—or might an actual damaging attack happen?
Growing Pride
Weighty questions. But already the Olympics has helped boost growing Chinese pride. A study by Ogilvy Group showed that 75% of Chinese say the Olympics makes them proud of their country. And an even greater 87% see the Olympics as an opportunity to help Chinese brands, including Olympic sponsors China Mobile and Lenovo, become more international. "Excitement among local Chinese has grown throughout the country. The new wave of enthusiasm is driven by national pride and patriotism for China serving as host of the Olympic Games," the report said.
If foreign protesters succeed in actually disrupting the Games, or drawing the world's attention away from the sports events themselves, however, that very likely would anger large numbers of Chinese. In their minds, protests would become a malicious effort to sabotage a time of great pride for China. And that could strengthen a Chinese nationalism sometimes defined most by a sense of victimization, and carefully cultivated through repeated references to the historical abuses suffered by China going back centuries. That less attractive variety of nationalism (BusinessWeek.com, 4/24/08) was already on display earlier this year following the unrest in Tibet.
So far at least, it looks as if Beijing is choosing a softer approach. That seemed to be the case earlier this week when Chinese police dealt with protesters supporting Tibetan independence outside the Bird's Nest national stadium, and with another group calling for more religious freedom for Christians that gathered in Tiananmen Square. According to an Aug. 5 Reuters news report, the Chinese police have been told to act with more restraint (BusinessWeek.com, 8/5/08) when confronting activists and not obstruct foreign journalists in their reporting.
Fears of Terrorism
The possibility of a terrorist attack during the Games has also become frighteningly real following a bus bombing in southwest China and a bloody attack on Aug. 4 in the western city of Kashgar, Xinjiang, that left 16 policemen dead. A video by an organization calling itself the Turkistan Islamic Party was released on Aug. 1 (this followed an earlier warning a week before) threatening attacks during the Olympics in retaliation for what it called China's "barbarism" toward its Muslims. "Do not stay on the same bus, on the same train, on the same plane, in the same buildings, or any place the Chinese are," a speaker with a face cover warned in the video, which also showed the Beijing Olympics logo in flames.
And while the likelihood of an attack in Beijing is slim, given the extensive security preparations by Chinese police and military, as well as a huge new security infrastructure (BusinessWeek.com, 8/7/08) mainly supplied by foreign companies, it is possible that a terrorist incident could occur elsewhere on the mainland. "The threat to the actual Olympic venues is assessed as medium to low," wrote Steve Vickers, president and CEO of Hong Kong-based International Risk in a note released just hours before the Games opened. However, "there is a genuine threat of terrorism in parts of the PRC; particularly those areas in close proximity to Xinjiang and to the border areas with Pakistan and Afghanistan."
Beyond the horrible human costs, a terrorist attack could also have an economic impact. If China decided to further tighten its restrictions on foreigners who want to live and do business on the mainland, that could begin to hurt the economy. Already new visa restrictions imposed in the runup to the Games have upset foreign companies and slowed the pace of doing business in China. A less open China could exacerbate conditions for an economy that is already showing signs of slowing (BusinessWeek.com, 8/7/08).
Of course, most people are hoping for a safe and successful Olympics, one that is not marred by any violent disruption and one in which China is able to show its best face to the world. That too could help nudge Beijing more quickly toward greater liberalization of a system that, many believe, still restricts political freedoms for its own people and limits its integration with the world. "China will be opening Olympicism to one-fifth of mankind: 1,300,000,000 people," said Jacques Rogge, president of the International Olympic Commission, at a press conference on Aug. 7, just one day before the Games opened. "The spotlight put by the Olympic Games on China will help both the world to understand China better and maybe for China to understand the world better."
Before it's here, it's on the Bloomberg Terminal.
LEARN MORE