India's Terrorism Dilemma
Recent high-profile blasts have highlighted the government's difficulty in coming up with an effective strategy to fight terror
by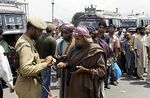 In a two-day summit of South Asian leaders last weekend in Sri Lanka's capital of Colombo, Indian Prime Minister Manmohan Singh scored a victory by getting the eight countries to put in place a legal framework to fight terrorism. Singh needed a boost, after terrorist bombings last month (BusinessWeek.com, 7/25/08). As many as 23 blasts rocked Bangalore, the southern city that is the country's IT capital, and Ahmedabad, in the heavily industrialized western state of Gujarat, killing more than 50 people and injuring more than 200. The toll could have been even higher: Police were able to prevent another blast in Gujarat by detecting a car full of explosives in the nick of time.
The killings are the latest in a series of deadly attacks. A bombing of the Indian embassy in Kabul, Afghanistan last month killed over 40 people. In May, terrorists struck in the tourist city of Jaipur, killing 60 and injuring 200. There were attacks in Hyderabad last July and in Mumbai in July, 2006. In the most recent cases, intelligence agencies moved quickly, locating and diffusing unexploded bombs and arresting one suspect. Still, the blasts have led to criticism of India's ability to combat terrorism. "Our security is in a bad shape, with our intelligence in a defensive mode," says Ajit Davol, former head of the Intelligence Bureau, who is now a commentator on strategic national issues.
Although India has been dealing with terrorism for over two decades, critics say the country still has not come up with an effective strategy. Terror attacks, which until a few years ago were largely cross-border operations from Pakistan, Bangladesh, or Sri Lanka, are now masterminded by the local factions of international terrorist organizations like Al Qaeda and Harkat-ul-Mujahideen, which is active in Kashmir. Within the country, there are also a number of secessionist and revolutionary movements (BusinessWeek.com, 5/7/08) that threaten domestic security. Says Major General Dipankar Banerjee, who heads the New Delhi-based Institute of Peace & Conflict Studies: "We'll continue to see more such attacks if something is not done fast."
A Catch-22 for the Army
Defenders of the government argue India's defense against both homegrown and foreign-sponsored terrorism is hamstrung by the geographic nature of the country. They say much of the planning for terrorist attacks has taken place in rural areas where the state has little presence, while the attacks themselves have targeted crowded areas in India's largest cities where surveillance is difficult.
The government also encounters difficulty using the military in the antiterror fight. For years, governments have deployed the military in areas such as the Northeast and Kashmir. That has led to mounting criticism that the army presence destroys the democratic fabric of the country. At the same time, the harsher methods that the military uses has led to widespread complaints of human rights abuses. "It's what the Americans like to call a Catch-22," says a senior official in the Home Affairs Ministry not authorized to speak to the media. "If we deploy the army, then we are monsters. But if we don't deploy the army, then we are letting the terrorists win."
Still, critics say India suffers from weak governments, limited resources, and political interference in police work. "India lacks a coherent strategic response to terrorism; there is no doctrine, and most of our responses are kneejerk," says Major General (retired) Sheru Thapliyal, who works at the Center for Land Warfare Studies in New Delhi. Security measures are often short-term, adds Uday Bhaskar, a defense and strategic affairs analyst and former director of the New Delhi-based Institute for Defense Studies & Analysis. "Our strategy culture has been more episodic," he says.
Not Enough Policemen
As in the U.S., politicians have tried to score points with antiterror policies. For instance, in 2002, soon after Hindu-Muslim riots broke out in Ahmedabad, killing 2,000 people, the BJP introduced the controversial Prevention of Terrorism Act (POTA), which provided the police with powers to detain terror suspects for 180 days without charge. Groups like Human Rights Watch claimed that the policemen were using POTA powers to arrest petty criminals and target the Muslim community. After taking power in 2004, the Congress Party-led coalition repealed POTA, citing "gross misuse" by some state governments. The BJP, now the largest opposition party, has sensed a political opportunity after the latest bombings and has called for the revival of the POTA, but Congress leaders oppose such as move.
In the fight against terrorism, India also suffers from a basic manpower problem. The total strength of the country's security personnel, including the police and the paramilitary force, is 2.2 million—1.2 million policemen and 1 million in the paramilitary forces, For a country of 1.2 billion people, that's "woeful," amounting to just 126 security personnel deployed for every 100,000 people, according to Ajai Sahni, director of the New Delhi-based Institute of Conflict Management. In Western countries, the number of police deployed ranges from 250 to more than 500 for every 100,000 civilians. "So while India has one of the largest police forces in the world, we are still running primitive policing operations," he says. Despite a huge demand for jobs (police recruiting in every state brings in over 1,000 applications for every job), 20% of jobs go unfilled.
No Credit for Defused Bombs
The lack of resources has resulted in pressure on India's fragile coalition governments. Internal law and order is run by the states in India, while external security is New Delhi's concern, says Sahni. When confronted, state governments immediately blame New Delhi for not providing adequate finances. "Many states buy [a] temporary truce with the threatening forces just so they can survive their five-year term in office," he says.
Not all the news is bad. Some analysts say only the bomb blasts make the headlines, not the averted attacks. Two weeks ago, for instance, bomb disposal experts defused almost 25 bombs in Surat, a city on the western coast of India. But officials complain they get little credit for their successes. "What really matters in public perception is the attacks that you fail to avert," says Brahma Chellaney, professor of strategic studies at the New Delhi-based Center for Policy Research.
Before it's here, it's on the Bloomberg Terminal.
LEARN MORE