Toyota's Tough Quarter
The Japanese automaker's net earnings slumped 28% in the three months through June, but the company still made more than $3 billion
Ian Rowley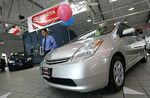 Bad, but could have been a lot worse. That's probably the best way to describe Toyota's (TM) earnings for the three months ended in June, which were announced this afternoon in Tokyo. For the quarter, net earnings slumped 28.1%, to $3.23 billion, stung by a stronger yen, soaring raw materials prices, and sluggish U.S. and European sales. Sales were down 4.7%, to $56.9 billion. "The financial results for the quarter were severe," Executive Vice-President Mitsuo Kinoshita told reporters. Kinoshita added that it will also be tough for Toyota, which has laid off 800 temporary workers in Japan, to meet a 2009 target to sell 10.4 million vehicles. On July 28 it pared its 2009 sales target by 350,000, to 9.5 million
Amid the carnage in the auto industry, Toyota's results aren't as bleak as many expected—earlier, a Bloomberg News survey of Tokyo analysts had projected Toyota would make $3 billion. And at least Toyota is still in the black: During the same quarter GM (GM) and Ford (F) lost more than $24 billion between them. Despite Toyota's North American sales falling by 33,000, to 729,000 vehicles, during the quarter, and by 32,000, to 301,000 in Europe, Japan's No.1 carmaker still managed to raise sales by 41,000, to 2.4 million vehicles, during the quarter.
Perhaps most important, Toyota maintained its full-year earnings and sales forecasts. Through March 2009, it aims to make a net profit of $11.4 billion from sales of $228 billion.
Help from a Weaker Yen
Why does Toyota believe it can meet its goals? One big reason is the rate of the yen against the dollar and other currencies. The rise in the Japanese currency had a negative impact worth $1.82 billion during the March-to-June quarter. Still, the yen could yet come to the company's aid. Toyota had been expecting a yen-dollar rate of 100, but the Japanese currency has weakened in recent weeks, to around 109. Toyota is now projecting 105 for the rest of the year. That still hurts, especially compared with just a year ago, when the yen stood at 124 to the dollar. But if the exchange rate stays around current levels, the pain will be less than Toyota had been expecting. Toyota said today it now expects currency swings will wipe off about $4 billion from annual earnings, compared with more than $6 billion a few months ago.
It's also noteworthy that the large earnings slump during the current quarter looks bad partly because the same period last year was unusually strong. Thanks in part to the yen's weakness in the spring of 2007, Toyota's net earnings for the April-June quarter last year came in at $4.5 billion, the largest in its history (BusinessWeek,com, 8/3/07).
Toyota is counting on surging auto demand in some markets outside the U.S. and Europe to help meet its goals. Sales in resource-rich countries, particularly Russia, Australia, and the Middle East, are still growing fast. And China, where Toyota expects to increase sales by about 177,000 vehicles this year, is another buffer, although Kinoshita warned thaat growth in countries that rely on selling good to the West will wane if the U.S. economy doesn't recover quickly. In the last quarter, Toyota even increased auto sales in Japan by 12,000, to 512,000—no small achievement in a market which touched two-decade lows in 2007.
Banking on a U.S. Turnaround
Still, if Toyota is to start meeting—and beating—its earnings targets, a turnaround in the U.S. car market is all-important. After rapid expansion around the world in recent years, the proportion of Toyota's earnings derived from U.S. sales is below 50% (the company doesn't disclose the exact figure), but that offers little succor at a time when sales are plummeting in the world's largest auto market. In July, Toyota's U.S. sales fell 11.9%, to 197,424. So far this year, Toyota sales are down 7.6%, to 1.4 million.
Kinoshita, though, sounded an upbeat note in saying that, in the longer term, the U.S. remains a growth market. He cited population growth as one positive factor, and said he was hopeful that the economy would begin to recover beginning the early part of next year. "From a medium- and long-term perspective, it's a good market,' he said.
Before it's here, it's on the Bloomberg Terminal.
LEARN MORE