Malaysia's Anwar: Sodomy ChargesAgain
Opposition politician Anwar Ibrahim faces new gay-sex allegations that many observers believe are politically motivated
Sabrina Chan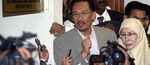 History is repeating itself in politically embattled Malaysia. "This is malicious slander, and I'm not guilty," declared former Deputy Prime Minister and current opposition politician Anwar Ibrahim, 60, on Aug. 7 in court after being formally charged for allegedly sodomizing a male aide, 23-year-old Saiful Bukhari Azlan. Anwar, who spent more than five years in jail before a court threw out earlier charges in 2004, helped power a strong performance by the three main opposition parties in national elections last February. The leader of a new opposition alliance, he recently announced his intention to run in a by-election on Aug. 26 for a seat in Parliament that had been held by his wife, Wan Azizah, who resigned to pave the way for his formal return to politics.
Although current Prime Minister Abdullah Ahmad Badawi has repeatedly denied being behind the charges, many analysts see the allegations as politically motivated. (While homosexuality is not illegal in Malaysia, it is against sharia law that applies to the country's majority Muslim population.) Anwar denies any wrongdoing, and his legal team has released a medical report issued by a hospital in Kuala Lumpur stating that the alleged victim showed no sign of being assaulted. R. Sivarasa, a lawyer representing Anwar, is confident of winning the case. "It will have no impact whatsoever on the by-elections. There will be no legal bar against contesting, and we will proceed to focus on the key issues of the campaign," says Sivarasa, who is also vice-president of Anwar's People's Justice Party (PKR). "It is a matter of time before he becomes the next Prime Minister."
The ruling coalition has reason to worry about Anwar, who despite the latest charges is free on personal bond and can run in the by-election. Should he win, he will be well-positioned to lead the opposition alliance consisting of the PKR, the Pan-Malaysian Islamic Party (PAS), and multiracial Democratic Action Party (DAP). "This will be the mother of all by-elections," says Tricia Yeoh, director of the Center for Public Policy Studies in Kuala Lumpur, who believes that the international community will be watching closely what happens.
The Dawn of a Two-Party System
Political analysts say Malaysia is seeing for the first time a two-party system with a strong opposition. That could force the ruling coalition, led by the United Malay National Organization (UMNO), to fight corruption and reform economic policies that have long given an advantage to the country's majority Malays, says Steven Gan, editor-in-chief of independent news Web site Malaysiakini.com. The controversial National Economic Policy, launched by UMNO in 1971 as an affirmative action program for Malays, is often seen by its critics as a discriminatory economic policy against the minority Chinese and Indians.
Gan thinks that the implications of Anwar's return would extend beyond Malaysia. "If he wins, Anwar would provide a very moderate version of Islam, much more so than current Prime Minister Abdullah Badawi," he says. Although his opposition alliance includes the Muslim fundamentalist party PAS, Gan argues, Anwar has tempered the extreme Islamic rhetoric of the party's leaders since taking the helm of the coalition.
Long before the latest twist in this political saga, Malaysia's financial markets were in disarray. Two months ago bond markets were roiled when independent power producers defaulted on covenants attached to their bonds because of an unpopular windfall tax policy by the government. The Kuala Lumpur Stock Exchange Index has dropped 22% this year, while the Malaysian currency, the ringgit, is trading at a six-month low against the U.S. dollar.
Before it's here, it's on the Bloomberg Terminal.
LEARN MORE