As Olympics Open, China's Economy Slows
With manufacturing activity shrinking due in part to the global slowdown, China's growth story loses momentum
by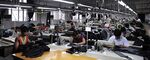 On the eve of the Olympics, all eyes are on Beijing. Beyond the spectacular architecture (BusinessWeek.com, 7/30/08) and staging at the Olympic Green, another scene, decidedly less euphoric, is playing out in factories across the country. "As the day of the long-awaited opening ceremony arrives, China's economy is indeed slowing," writes Jing Ulrich, Hong Kong-based chairman of China Equities with JPMorgan (JPM), in an Aug. 7 research note. A slowdown in export growth is "rippling across the economy," she adds. "New orders at factories have declined, and the country's property market has seen a sharp drop in transaction volumes."
In a worrisome sign that China's growth streak is losing more steam, the latest official statistics on manufacturing show the output of Chinese factories may have actually contracted in July. The Purchasing Managers Index (PMI) fell to 48.4 in July, the first time it has dropped below the 50 boom-bust line since the government introduced the measure three years ago.
That fall suggests manufacturing is shrinking, as levels of both new orders and production fell month over month. "China's manufacturing sector is facing tough challenges due to the slowdown in the global economy, rising production costs, tight credit conditions, power shortages, and currency appreciation," Lehman Brothers (LEH) economists wrote in a recent research note.
Sentiment Soured in July
While the PMI is a survey that does not take into account the size of companies involved, it provides an imprecise measure of how much the total output has changed. It can, however, be an important indicator of trends and of sentiment, which certainly turned negative in July. The PMI is also important because manufacturing accounts for 42% of China's gross domestic product.
So how slow could things get? Lehman China economist Mingchun Sun is forecasting GDP growth for the second half of 2008 will slow to 8.7%, compared with 11.4% in all of 2007, and 10.4% in the first six months of 2008. Sun also predicts Chinese GDP growth will cool to just 8% in 2009. That means that after years of trying to prevent economic overheating, China's economic mandarins will be faced with trying to prevent things from skidding too far.
The government's biggest preoccupation will be sustaining job growth. Its official target is to create 9 million new jobs a year to absorb the massive influx of workers to the cities and the new college graduates entering the workforce every year. "If growth goes lower than 8%, the government will be very worried," says Sun, who reckons even a 8% growth only 2 million new jobs will be created. "This is important because unemployment is related to instability."
Beijing has plenty of ammunition up its sleeve to reinflate demand if need be. Government coffers are bulging—reserves are $1.8 trillion, public debt is tiny, and the country is running a budget surplus. That means a quick goose to the economy could come from public spending that would help replace the drop in private investment. JPMorgan China economist Frank Gong predicts China could easily spend 1% to 2% of GDP on infrastructure alone to build more railroads and subways.
Tighter Foreign Exchange Rules
The government has taken several steps to boost confidence. It has raised the export tax rebate for manufacturers in the garment industry, for instance, and allowed local banks to increase the amount of loans they can make. On Aug. 6, China announced new regulations governing foreign exchange, with the government now promising to impose a fine of up to 30% for unauthorized transfers into Chinese yuan. "The inflow of hot money has had some negative impact on the economy. It is hoped that the regulation can enhance monitoring and control some speculative investment and foreign capital inflows," the official Xinhua news agency quoted Zhang Ming of the Chinese Academy of Social Sciences saying about the new rules.
More measures are likely. The need for such a stimulus is looking more urgent given the deteriorating global picture. Chinese export growth slowed to 21% in the first half compared with 26% in the same period of 2007 and is likely to drop to 10% to 15% in the second half, says Gong. Although Gong is still forecasting growth next year of 9.5% to 9.8%, he expects the government to ease up on monetary policy, which could give cash starved companies some relief.
For now, none of these developments have given stock market investors much reason to cheer. Indeed, corporate profits during the first five months dropped by half, from 42% in 2007 to 21% this year, and if anything could drop more. China's CSI 300 index is about 60% off its highs of last October (BusinessWeek.com, 6/20/08). But Ulrich believes there's reason for optimism as the government moves to prop up the export sector, and the country's small and midsize companies show results. "The slowdown will be less severe than Olympics pessimists predict," she says. Looking ahead, adds Ulrich, "the right conditions may be in place for a strengthening of investor sentiment."
Before it's here, it's on the Bloomberg Terminal.
LEARN MORE