Hasbro Learns to Spell B-O-T-C-H
The maker of Monopoly and Scrabble flubs its move onto Facebook when replacing a popular knockoff
Christopher Palmeri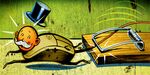 For much of the past year, Hasbro (HAS) has been on a tear. Its stock is up 50% since January. And thanks to everything from its roaring Transformers line to its cuddly Littlest Pet Shop franchise, the toymaker posted a record $330 million profit in 2007, on sales of $3.8 billion.
But Hasbro goofed with how it handled Scrabulous, a digital knockoff of its Scrabble board game on Facebook. The Pawtucket (R.I.) manufacturer not only stood idle as Scrabulous drew a half-million daily players to the social networking site over the past year. On July 30, after suing the two Indian brothers behind it and forcing them to pull it down, Hasbro put up a clunky, slower replacement. The result: howls of protest from the audience it was hoping to attract. "Hasbro just got greedy," fumes Rhonda Talbot, a Los Angeles Scrabulous fan. "If they weren't clever enough to create a Scrabulous, they don't deserve the players."
The Facebook fracas is a rare misstep for Hasbro. Along with underestimating users' loyalty to the Indian knockoff, it was slow to come up with free digital versions of board games such as Monopoly and Scrabble in order to draw ads, preferring to make money through subscriptions, game discs, or downloads. (Hasbro owns the rights to Scrabble in the U.S. and Canada; Mattel (MAT), which is also suing the Scrabulous founders, holds the rights elsewhere.) Another mistake, says Chuck Tanowitz, New Media strategist at Schwartz Communications, was attacking a product that revived interest in Scrabble. "They had new publicity for a brand that was old and stale."
Hasbro set out to forge high-tech versions of its brands last August through a licensing deal with video game maker Electronic Arts (ERTS). EA formed a 140-person Hasbro games division, which has since produced popular downloadable versions of Scrabble, Yahtzee, and Monopoly for cell phones. More than 600,000 copies of the three were downloaded in the second quarter, at $5 to $10 per game.
Hasbro executive Mark Blecher, who heads up electronic gaming efforts, concedes that the company was slow to focus on Facebook and notes that Scrabulous showed them "how powerful social networking could be." Both Hasbro and EA wanted to get up an early version of the game so they could get input from consumers. But users say Hasbro made a mistake in forcing them to play a version that wasn't as good as the knockoff. Blecher says kinks are being worked out.
Even so, Hasbro says its Facebook game already draws about 90,000 players a day. Scrabulous co-founder Jayant Agarwalla says a new, altered Scrabble substitute, called Wordscraper, "has witnessed tremendous usage in the past couple of days." Facebook says it draws 68,000 daily users. Agarwalla says Scrabulous was taken down "in deference to Facebook's concerns" and hopes "to bring fans brighter news in the days to come." Hasbro has learned its lesson. It plans to launch free versions of such Hasbro staples as Boggle, Battleship, and Yahtzee on Facebook.
Join a debate about Scrabulous, Hasbro, and Facebook.
Before it's here, it's on the Bloomberg Terminal.
LEARN MORE