Next: Cameras That Wash Your Car
Too often, the silly additions on today's digitals don't make for better pictures
Jay Greene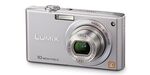 Remember when camera makers competed for who could offer the most megapixels? At first, two sounded like a lot. Then it was four, six, or eight. These days, 10 seems to be the sweet spot. And for less than $300 you also get image stabilization, red-eye reduction, an LCD viewfinder you can see in broad daylight, and much more.
So how's a camera maker supposed to differentiate a new product? More gimmicks, of course—all of them designed to make picture-taking stupid-proof. Some cameras will keep your kid in focus as she streaks across the soccer field. Others offer a collection of "modes" that preload the best settings for a candlelit dinner, a fireworks display, or a sun-glazed day on the ski slopes. The latest trick: cameras that won't even snap unless they detect a toothy smile on your subject's face.
I recently tried three new ultra-compact digital cameras to see if all this feature-creep actually makes it easier to take great photos. All three were in the 10-plus megapixel class, and all yielded superb results. But more often than not the silly feature additions didn't make for better pictures, and in some cases they made things more complicated.
Let's start with the svelte Sony (SNE) Cyber-shot DSC-W170 with a Carl Zeiss 5x optical zoom lens and a 2.7-inch LCD display. It's supposed to help the novice shoot like a pro, aided (if you can say that) by Smile Shutter technology, which shoots only when a smile is detected. The user sets the sensitivity level. My kids and I had fun trying to trick the sensor with a variety of goofy-looking smiles. Then we turned the feature off. All those forced smiles were a little creepy.
The W170 also has something called intelligent scene recognition technology. When it's activated, you can still adjust the settings for light and motion. But if the camera thinks it can do better, it will quickly snap a second picture using the settings it thinks you should have selected. Apart from the fact that the camera seemed to be saying "I told you so," this software is pretty impressive, particularly when you're shooting in tricky lighting. The one thing I really didn't like was the dial on the back of the W170 that you spin to choose different settings. It's cluttered and confusing, with some settings indicated by icons and others by words.
Panasonic's Lumix DMC-FX35 fared well in my less-than-scientific test. Just a smidge trimmer than the Sony, it has a 25mm Leica lens and a 2.5-inch LCD display. The mode menu's 22 selections are wonderfully simple: a candelabra to indicate shooting a candlelit scene, a palm tree by an ocean for beach shots, and an island with clouds floating by for pictures taken from airplanes. There's also an Intelligent Auto mode that figures out the optimal settings for each shot, while gyro-sensors correct for a shaking hand.
Nikon's Coolpix S600 has Nikon's own Nikkor 4x optical zoom lens and is just a bit smaller than the Lumix, even with a 2.7-inch LCD. There are 15 modes to choose from, some of which made little sense to me. Is "museum" mode good for shooting anything other than art on walls? The answer: This mode is for indoors when flash photography is prohibited. And how is Active Child mode different from Sports mode? Not very. The Sports mode allows for continuous shots that capture motion.
Neither mode worked well for me. I took the S600 to shoot my 13-year-old son's Ultimate Frisbee practice in challenging dusk light and got a bunch of blurry snaps.
Turns out most of the gimmicks designed to make photography easier don't live up to the hype. Then again, all the cameras took phenomenal pictures when I picked the basic settings, pointed, and shot. Camera makers now have very smart software. They should give that technology something useful to do.
Before it's here, it's on the Bloomberg Terminal.
LEARN MORE