Hard Times for Argentina
Latin America's most vulnerable economy faces restive farmers, skyrocketing inflation, and mounting debt. And it still needs to strike a deal with creditors it disappointed in 2001
Charles Newbery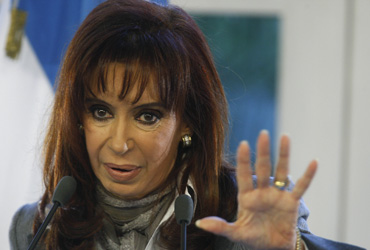 A day's drive south of Buenos Aires in a town called Coronel Suarez, Facundo Gallardo grows corn and soybeans on land his family has tilled for half a century. With the high prices of global commodities, this should be the best of times in the world's biggest supplier of soy oil, second-largest producer of corn, and third-biggest shipper of soybeans. "Business would be great if I was anywhere but Argentina," Gallardo, 47, fumes. "Margins are shrinking all the time."
Fertilizer prices have more than doubled over the past year and the price of diesel, while relatively cheap at 97¢ a gallon, has zoomed up by 30% to 50%. Worse, the President and her husband "hate us," Gallardo laments. President Cristina Fernández de Kirchner, whose husband Néstor Kirchner ran the nation between 2003 and 2007, in March jacked up crop export taxes to raise government revenue and keep food prices down at home. The tax burden on farmers today exceeds 55%.
The battle between the Fernández de Kirchner administration and the farmers is only one reason why economists consider Argentina to be the most vulnerable economy in Latin America today. Concerns are rising that as the nation's economy slows, if Kirchner doesn't deal with mounting debt, rising inflation, sagging investment, and limited resources to pay for subsidies, then Argentina may be on the way to an economic crisis and debt default.
Independent economists say annual inflation is 25%—not the 9.3% the government claims. That would place Argentina just behind Venezuela in the region, with its 32% inflation rate. Economic growth is expected to slow to 6.5% this year and to just 2.5% in 2009.
If Argentina is to have any hope of rolling over its debt or borrowing fresh money, it will have to reach some sort of agreement with creditors still demanding payment for around $20 billion in paper from a $93 billion sovereign debt default in 2001, the biggest in world history.
A Long and Loud Rebellion
The Kirchners—Néstor is head of the ruling Peronist party—touted the agriculture tax policy as key for assuring local food supplies, fighting inflation, and helping the poor. Fernández de Kirchner is heavily reliant on farm tax revenue to finance surging government spending as labor unions—a key base of her political support—demand higher wages, and as energy shortages force her to import more diesel and natural gas. The latest tax increase—to nearly 50% from 35% on soybeans, the country's biggest crop—would have raised an additional $1.2 billion a year, which the President said would be used to build hospitals and schools.
Enraged, farmers took to the streets. For more than four months they blocked highways, drove tractors through cities, withheld exports, and banged pots and pans to demand a reversal. It was the loudest—and longest—rebellion by Argentine farmers, a traditionally nonpolitical group whose predecessors helped make Argentina as prosperous as the U.S. in the late 1800s and early 1900s. The former President called them "coup mongers" and deployed Peronist sympathizers to break up demonstrations.
After three months of failing to negotiate an end of hostilities, Fernández de Kirchner asked congress to officially approve the taxes she had imposed by decree. On July 17, the senate voted no, with Vice-President Julio Cobos breaking a tie by voting against his boss.
A Spending Problem
It was an unexpected defeat for the President and has raised questions about her leadership and the financial health of the country. In an apparent effort to improve her battered image, the President held her first-ever news conference on Aug. 2 and defiantly insisted that taxing farm exports at a time of high world food prices is a legitimate "instrument of economic policy."
The administration needed the export-tax revenue to cover rising debt costs and subsidies. "This is a government that doesn't stop spending and this is putting in danger its capacity to pay debt," says Francisco Mezzadri, an independent economist in Buenos Aires.
The defeat came after five years of swelling popularity for the Kirchners. Law school sweethearts, they have followed a largely populist agenda of price controls, subsidies, and wage hikes, and tax cuts focused on the working class. This helped kick-start the economy after the 2001-02 economic crisis and 65% currency devaluation, with the country posting growth of more than 8% a year since 2003.
"Old and Tired" Already?
Officials bragged of Chinese growth rates that helped poverty levels shrink from 50% of the population to just 20%. Booming agricultural exports helped fiscal and trade accounts swing to surpluses, and international reserves bulged to $50 billion.
Yet holes began to appear in the model, from energy scarcities to declining investment. The government fiddled with inflation statistics and relied heavily on price controls and subsidies to try to keep a lid on escalating prices. The fiscal and trade surpluses are narrowing on rising energy imports. Subsidies are expected to nearly double this year, to $6 billion.
"The government looks old and tired after only eight months" in office, says Federico Thomsen, an economic consultant in Buenos Aires. The President's approval rating dropped to 20%; when she took office in December, her ratings were 56%, thanks in large part to her husband's legacy of high growth.
Defaulted Debt
Another problem plaguing Argentina's economic advance is the hangover still remaining from the 2001 default, which cut the country's access to international financial markets. The Paris Club, a group of the world's 19 richest nations, is seeking repayment of $6.3 billion. And holders of more than $20 billion of bonds, who refused to accept a 70% haircut in a 2005 restructuring of part of the defaulted debt, are suing for full repayment.
The President has "let a golden opportunity slip by" by failing to sort out the delinquent debt, says Robert Shapiro, co-chairman of Washington (D.C.)-based lobbying group American Task Force Argentina, which represents 39 debtors with defaulted bonds. "It would have been easier to resolve this when times were good."
Argentina can only raise capital domestically and from Venezuela, which charges interest rates of up to 13%. At first, this wasn't a problem. Revenue was spilling in from export duties as commodities prices surged, limiting the need for short-term financing.
But the overturn of the higher export taxes means less revenue will flow in even as government spending and debt levels are rising—debt is now at 56% of GDP, or 67% including the debt owed to the haircut holdouts, compared with 54% in 2001.
Most independent economists don't foresee debt payment problems this year or next. But to cover the defaulted debt—the President has hinted she is willing to resolve the Paris Club debt—the government would have to tap central bank reserves, as it did when it paid off its $9.5 billion debt with the International Monetary Fund in 2005.
"Serious Consequences?"
With Kirchner's popularity and political support waning, that may be difficult. "It will require real character and leadership," says Shapiro.
If it does repay its remaining creditors, Argentina could slowly rebuild credibility, helping reduce capital flight and encourage investors to return to the country. In May, the central bank sold nearly $3 billion in dollars to discourage savers from dumping pesos during the farm conflict. "This is not rocket science. It is basic economics," Shapiro says.
But the defaulted debt is not going to go away and this is worrying, he says. If Argentina falls into another crisis, a default on current debt on top of the outstanding problems will bring "serious consequences."
Before it's here, it's on the Bloomberg Terminal.
LEARN MORE